[ad_1]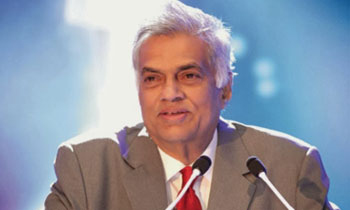 The private sector yesterday received a rather harsh wake-up call from Prime Minster Ranil Wickremesinghe, where he asserted the need for the private sector to pick up pace in supporting the national economy to reach the country's ambitious economic goals.  
Keeping in mind the expiry date of the unity government, which will reach its full term in three years from now, Wickremesinghe stressed that it is imperative the private sector get its act together within that period.
"We have a lot more to do in reaching our economic goals and for that, you (private sector) need to leverage on the opportunities created by the government. Understand that in the next three years, for the country to achieve its growth, we want you all to expand," Wickremesinghe told the private sector leaders last evening as he addressed CIMA Business Leaders' Summit 2017 in Colombo.
It was pointed out that the need of the hour in fulfilling the government's aspirations are – the need to unleashing the potential of local entrepreneurs, encouraging private FDI, capitalizing on GSP Plus, maximizing the use of the new ease of doing business law and facilitating investments. 
Referring to these measures as the "nuts and bolts" of the envisaged plans, Wickremesinghe asserted it is time for the private sector to change gear."If we don't do this now, we will be nowhere. Understand the advantages before you and go by the comparative advantages. The future depends on technology and innovation. The world is fast changing and in that where we stand we need to question," he opined.
Wickremesinghe also took a jab at the previous regime by highlighting its "failure" in bringing sustained stability.
Noting that the country suffered from "misappropriation" during the previous regime that hampered growth and development, Wickremesinghe sang praises to the current government's initiatives in bringing in the "stability" factor.
While pointing out that the progress achieved since the inheritance of a struggling economy, Wickremesinghe said: "The government can create the environment but it is up to you all to decide how to use it. We must understand that the economy is central to everything we do."It was warned that if the created opportunities were not exploited, soon Bangladesh would surpass Sri Lanka in terms of GDP per capita, as in the case of Pakistan. "This is the last chance we have," he stressed.
"You need to realize that innovation and technology is imperative and that is what matters." Reiterating the need for greater collaboration between the public and private sectors, he pointed out Sri Lanka is presented with a "wonderful opportunity" since it has a national government—having the two main political parties on one page."Political and economic stability is important but both alone is insufficient if we don't have enterprises. We are changing the business landscape. All I can tell you is we are doing our best, you do your best and the country will reach its best," said Wickremesinghe concluding his remarks. (Shabiya Ali Ahlam)
[ad_2]

Source link