[ad_1]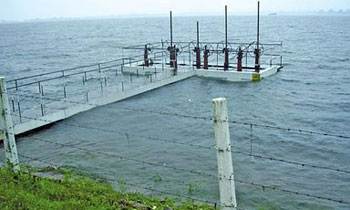 The Parakrama Samudra in Polonnaruwa reached spill level on the day before yesterday due to heavy rain experienced in the area.
Irrigation engineer in charge of the reservoir, R.J.Jayasinghe said the capacity of the reservoir had reached 112,500 acre feet by last morning.
He said the maximum capacity of the reservoir was 110,000 acre feet and that the spill gates would be opened when the water level reached 160,000 in the Maha season.
He said the spill gates would not be opened in the Yala season when continual rains were not experienced. However he said the spill gates will be opened if heavy rain continued.
Jayasinghe pointed out that usually the water level in the reservoir would have dwindled to a great extent by March and April and that it was surprising the reservoir had reached spill level in March itself. (K.G.karunarathe)
[ad_2]

Source link