[ad_1]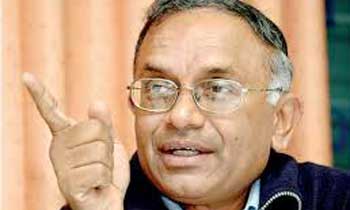 Government MP Jayampathi Wickramaratne, who is playing a pivotal role in the constitution-making process said there would only be one sovereign and central legislative body in a unitary state and those proposed in the interim report were subordinate legislative bodies.
He said this during the debate on the constitution-making process and that in an ekiya rajya or unitary state as mentioned in the interim report what is proposed is to have several subsidiary legislative councils other than the central legislature.
Referring to a ruling given by the then Chief Justice Sharvananda, he said there could be more than subsidiary legislative bodies which were not sovereign in a unitary state and that position would be preserved in making the new Constitution. He said if the central legislature had the power to abolish the provincial councils, it was very clearly a unitary state.
"What is proposed is to have a number subsidiary legislative councils in addition to the central legislature. However these subsidiary legislative bodies will not be sovereign which the central legislature enjoys. Besides the central government will have the power to abolish a subsidiary legislative council as and when it becomes necessary," the MP said.
He stressed the need to avoid conflicts between the central and subsidiary councils and said
the government decided to make amendments to the constitution without a referendum only under the 100-day programme. "The Government clearly stated that it would go for a new constitution with the consent of the people through a referendum. Even President Maithripala Sirisena pledged to enact a new constitution through a referendum during the presidential election and renewed the pledge during the funeral of Ven. Maduluwawe Sobitha Thera who was also agitating for a new constitution. (Yohan Perera and Ajith Siriwadana)
[ad_2]

Source link