[ad_1]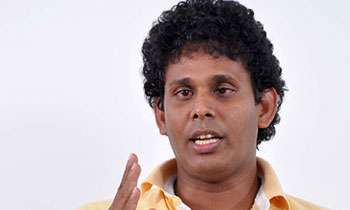 Only Ministers who are under the influence of drugs could condemn the killing of the underworld criminal in Matara, JVP-affiliated Voice Against Corruption (VAC) Convenor Wasnatha Samarasinghe said today.
He said this while referring to a statement made by Finance and Media Minister Mangala Samaraweera on Sunday that the killing of a suspect while in police custody could not be justified just as the police constable's killing, which could not be justified.
"Only those who are under the influence of drugs (Kudu Gahapu Amathiwaru) could make such remarks as the one made by the minister," Mr. Samarasinghe said. "The underworld leader was killed when attempting to shoot a policeman. I wonder where in the world is a criminal who has shot at the police spared."
He also criticised Asgiriya Chapter Anunayake the Ven. Wendaruwe Upali Thera who had reportedly called for a dictator-type leader to rule Sri Lanka.
"A member of the Buddhist clergy should not make such statements. Is he unaware as to what happened in Germany during Hitler's time?
He asked whether the prelate had forgotten about the killing of Roshan Chanaka at Katunayake and the abducting and killing of journalists during the previous regime.
Mr. Samarasinghe accused the government of misleading people by publishing wrong figures pertaining to the current economic growth. He said the real growth rate was 2.7 per cent while the government had published the growth rate as 3.2 per cent. He said the GDP in the first quarter of 2017 was Rs.2,164,477 whereas it was shown to be Rs.2,154,971 million when computing the GDP in the first quarter of 2018. (Yohan Perera)
[ad_2]

Source link