[ad_1]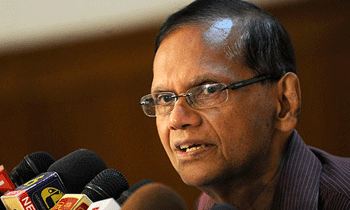 The joint opposition (JO) said today the excessive taxes imposed on the people through the 2018 Budget should be described as 'bond scam taxes' instead of 'Medamulana taxes'.
JO member G.L. Peiris said though the government had reduced prices of essential items, it had in return hoped to obtain a colossal revenue by way of indirect taxes.
"The government will have to spend Rs.18 billion next year to provide the price reductions on essential items. However, indirect taxes will help it earn Rs.649 billion. These are not Medamulana taxes but bond scam taxes. Even Minister Lakshman Yapa Abeywardane had admitted that the government had lost as much as Rs.1 trillion because of the bond scam," he told a news briefing.
Prof. Peiris said everyone was looking forward to see Prime Minister Ranil Wickremesinghe giving evidence at the bond commission and what he has to say about the scam.
He said the JO would not join the SLFP faction led by President Maithripala Sirisena as long as it continued to be a part of the UNP government.
Prof. Peiris said the 2018 Budget had plenty of loopholes because it had been prepared with the primary intention of providing benefits to foreign nationals and not to Sri Lankans.
"Rs.10 million had been allocated for people to obtain loans to refurbish houses to promote tourism. Only 10 householders can upgrade their houses from this amount. Another proposal was made to allocate Rs.25 million for entrepreneurs. Given that one person can apply for a loan of Rs.1.5 million, only 16 entrepreneurs can obtain this loan. The reduction of excise duty tax on brand new electric vehicles was also a hoax as parent companies won't send brand new vehicles to Sri Lanka," he said.
Prof. Peiris said removing restrictions for foreign nationals to purchase apartments and other properties would increase the prices of apartments, lands and property in the country, making it difficult for locals to purchase them. (Lahiru Pothmulla)
[ad_2]

Source link