[ad_1]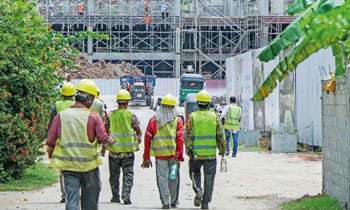 Female residents living off Buthgamuwa Road, Welikada, Rajagiriya, are facing difficulties due to disturbing and indecent activities of Chinese, Indian and local workers working in a construction project of private apartments, named Iconic Galaxy on a land in their neighborhood.
Speaking to the Daily Mirror, one of the residents, Dinali Perera, mother to three daughters, said the workers at the site cause severe difficulties especially for women.
"They walk on our road everyday smoking and without being properly attired. We don't even go out of our houses after 6pm. Sometimes, when these workers see women they expose themselves and lift their sarongs. Besides that, they bring various women in three-wheelers at night. We find used condoms right outside our houses in the morning. They even pass sexual remarks at our daughters while on the road," Dinali explained the ordeal.
This Buthgamuwa Road, which has 14 residences, does not connect to any other road and ends at a canal. Actual access to the construction land on the other side of a canal is from Kamatawatta Road, but the constructors have created a new access by building a bridge across the canal, Col. Retd.
Vikum Siriwardana, one of the residents, told the Daily Mirror.
Residents alleged that the Sri Jayawardanepura Kotte MC had aided Indian property developer Iconic Developments Pvt Ltd by fraudulently issuing a certificate to the effect that Buthgamuwa Road is a road belonging to the municipality.
"We do not know whether the Government of Sri Lanka has given this area over to Indians as it appears that Laws of the state are no longer applicable in this area" Siriwardana further said. (Piyumi Fonseka) Read More
[ad_2]

Source link