[ad_1]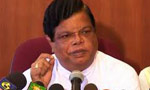 The National Policies and Economic Affairs Ministry, has with the intention of earning commissions, bypassed the Public Debt Department when calling for proposals from foreign and local banks to obtain a loan of US$1 billion, the joint opposition said.
It said it was the Central Bank's Public Debt Department which had the authority to obtain loans and not a ministry.
"This loan too will be obtained at a fixed or floating rate with a maturity period of three years or more. It has always been the practice for the Debt Department to apply for loans. The Department of External Resources, which is under the purview of Prime Minister who is also the National Policies and Economic Affairs Minister, has no authority to obtain loans," MP Bandula Gunawardane told a news conference.
He said there was serious doubt about the entire procedure of calling for loans by the Ministry and said vested interests would be paid 'commissions' through this move in the absence of transparency in the procedure. (Lahiru Pothmulla)
[ad_2]

Source link