[ad_1]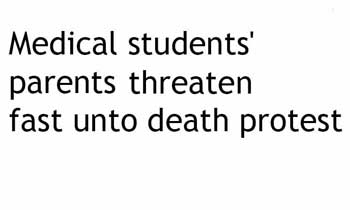 While rejecting the latest stand taken by the government regarding the South Asian Institute of Technology and Medicine (SAITM), the Medical Faculty Students' Parents' Association (MFSPA) today warned that it would resort to a fast unto death protest on Monday (6), if the related authorities would not provide them with an actual solution to this issue.
The government announced on Sunday that it had decided to abolish the SAITM and convert it into a not for profit institution coming under the University Grants Commission (UGC).
MFSPA Media Spokesman Dr. Nimal Karunasiri told Daily Mirror that they could not stand in line with the stance of the government because the said decision had not been announced by an eligible official.
"This decision was announced through the Director General of the Government Information Department. We cannot stop our battle just on an announcement by him. What if the government in future would say that they would not be held responsible for this statement? Therefore, we will continue our battle against the SAITM without any interruption as earlier," he added.
He said that this decision could also be regarded as a tricky step taken by the government to nullify the strength of the parents' summit organized by the state university students' parents on Sunday.
He also said that over 250 parents had given their consent to take part in the fast unto death protest which was scheduled to start on Monday. (Kalathma Jayawardhane)
[ad_2]

Source link