[ad_1]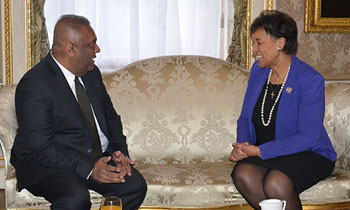 Minister of Foreign Affairs Mangala Samaraweera has expressed hope that the Commonwealth will continue to fight for the values that have strengthened Sri Lanka in recent times, such as human rights, rule of law and democracy.  
He met with the Secretary-General, Patricia Scotland, at Marlborough House yesterday.
In Sri Lanka, the government is currently reviewing a newly-formulated Constitution to replace the existing 1978 statute. Last year, Commonwealth human rights experts supported the country to draft a fundamental rights chapter for the new Constitution. This draft proposal is soon to be debated in the Sri Lankan Parliament.
Secretary-General Scotland said the Commonwealth was "delighted to give technical assistance to the constitutional realignment to Sri Lanka, particularly to make sure minorities feel represented."
During the meeting, Mr Samaraweera also discussed plans to establish a 'Truth and Reconciliation Commission' to look into the accountability and reparations of events that took place during the country's civil war. Although different from a commission with a similar mandate in South Africa, the minister recognised the potential benefits of learning from other countries' experiences.
Secretary-General Scotland agreed that, "it is more economical to work together, to share best practices and pool knowledge". If one of our members spends a dollar, I don't want any other country to have to spend the same dollar. Collaboration in our Commonwealth family is cheaper and more productive," she said.
The Secretary-General also provided more details on plans to open a Commonwealth Office of Civil and Criminal Justice Reform, which will provide all 52 member countries with legal support services and a platform to share ideas and experiences.
She said, "we have so much in common, so much that binds us together. We have people from nearly all regions of world. We have a third of the world's population. Together we are so much stronger. We have the opportunity to lead the world on tackling climate change, and on achieving the SDGs."
The discussions that followed centred on the establishment of the Commonwealth Institute for Digital Health in the country's capital of Colombo. This project aims to move forward the commitments of Colombo Declaration, launched in October last year, to improve health across the Commonwealth.
Secretary-General Scotland also invited the Government of Sri Lanka to take part in upcoming Commonwealth initiatives, including activities in the month of March to end violence against women, and a Commonwealth cricket club to teach young people about health, teamwork and even maths.
[ad_2]

Source link