[ad_1]

The Finance and Mass Media Ministry today said obtaining a license for toddy tapping for  coconut and palmyrah trees has been made mandatory once again.
However, toddy tapping from the Kithul tree has been exempted from the provision. It said the license could be obtained from the Excise Department and Divisional Secretaries.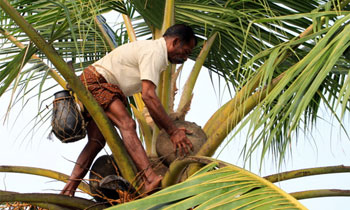 According to the Excise Ordinance, a license was earlier required for toddy tapping. However, it was later amended in 2013 by exempting Kithul, Palmyrah and Coconut trees from the licensing system.
In a statement, the ministry said due to the amendment, the Excise Department had faced difficulties in monitoring the volume of liquor produced from toddy by distilleries for the purpose of collecting excise duty.
According to the new amendment, no toddy shall be drawn or lowered from coconut or palmyrah trees without a license.
[ad_2]

Source link