[ad_1]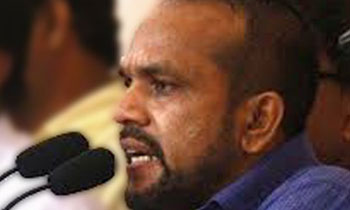 The joint opposition (JO) yesterday asked Presidential Secretary Austin Fernando to clarify whether the bond report that was published was the same as the report which he received from the Bond Commission.
MP Ranjith De Zoysa told a news conference that the report given to Parliament and published online lacks a number of facts and pages in comparison with the original report.
"We request the presidential secretary to make a statement within 24 hours whether the bond report he received was published intact without removing any facts. When concerned civil society organisations had asked the Speaker whether he had published the entire report, the Speaker has said yes. Therefore, now its up to the president's secretary to issue a statement and remove any doubts. Otherwise, it leaves room to wonder whether the Prime Minister had swept the facts under the carpet," he said.
The MP said the Premier continued to deny that a fraud had taken place in the Central Bank during the 100-day programme and even afterwards.
"Quoting the Pitipana committee report, the Prime Minister said nothing has happened. He said Arjuna Mahendran was a great Lankan son and that the Rajapaksa regime was slinging mud at him for being a member of the minority. Today, the Premier says Perpetual Treasuries Limited (PTL) funds have been frozen. This is not enough, action should be take against the wrongdoers," the he said.
Commenting on the President's statement that he will step down from the presidency after punishing corrupt politicians, the MP said because the President's term expires in November next year swift action should be taken as soon as possible. (Lahiru Pothmulla)
[ad_2]

Source link