[ad_1]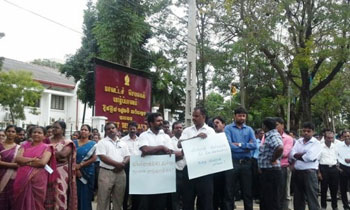 Some public servants in Jaffna staged a demonstration opposite the Jaffna District Secretariat alleging that the presence of armed gangs is creating a fear psychosis making it difficult to carry out their duties. They demanded an assurance of safety from the government.
The public servants said the recent disclosure by the Assistant Lands Commissioner of Batticaloa about a land grab had resulted in him being shot and injured.
"Immediate action should be taken to arrest the perpetrators of this crime," one of them said.
The protesters said when the public servants were discharging their lawful duties, the shooting by these armed groups had led to frustration among them and the failure to arrest them had made the other public servants also to fear for their lives.
The protesters handed over a petition detailing their demands to Jaffna District Secretary Nagalingam Vedanayagam. He said he would inform the Ministry of Law and order and the Police about this situation. (Romesh Madushanka)
[ad_2]

Source link