[ad_1]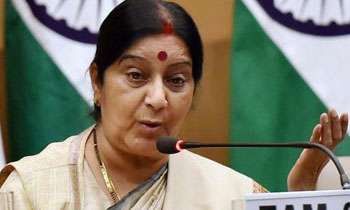 Indian External Affairs Minister Sushma Swaraj has revealed that India would adopt a broad approach to deal with China's increasing influence in the neighbourhood by closely tracking China's activities and advising neighbors including Sri Lanka on the consequences of engaging with China, the Hindustan Times reported on Sunday.
External affairs minister Swaraj has laid out this approach at a meeting with top diplomats posted in the neighbourhood countries last Tuesday on the sidelines of the Head of the Missions Conference, four officials familiar with the development had said.
The meeting was attended by India's ambassador to China Gautam Bambawale; and the country's envoys to the SAARC countries — Ajay Bisaria in Pakistan, Vinay Kumar in Afghanistan, Manjeev Singh Puri in Nepal, Harsh Vardhan Shringla in Bangladesh, Taranjit Singh Sandhu in Sri Lanka, Akhilesh Mishra in the Maldives and Jaideep Sarkar in Bhutan.
The broad sense in the meeting was that in Pakistan, China's economic and political dominance had only grown; in Bangladesh, while the Chinese have made huge economic commitments, many in Dhaka were wary of the 'debt trap' Sri Lanka found itself in; in Sri Lanka, while the government remained politically friendly to India, its economic ties with China had continued apace.
After listening to all the presentations, Swaraj said that Delhi's focus must not be on competing with China on resources.
Instead, she reiterated, India must continue to closely watch all Chinese activities; it must push ahead, with full vigour, its own work, and advise and educate friends in the neighbourhood about how a certain kind of economic engagement with Beijing can have negative consequences for them.
[ad_2]

Source link