[ad_1]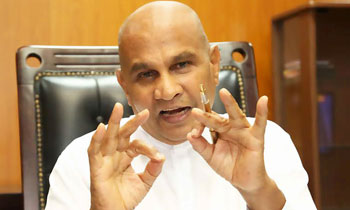 I will bring to the attention of the Inspector General of Police the escalating sword attacks taking place in Jaffna, NPC Governor Reginald Cooray said.
He made the above comments at the media conference held at the NPC Governor's Office yesterday.
The NPC Governor said that the sword attacks in Jaffna had increased and hence the issue will be brought to the attention of the IGP.
"I have also sent a letter to the President to relocate the security forces occupying the private lands to the Jaffna Fort," the NPC Governor said.
Meanwhile, the journalists posed a question to the Governor that the Jaffna Fort belonged to the Department of Archaeology and called for his comments. Responding to it he said that the Dutch, Portuguese, British, Sri Lanka Army and thereafter the LTTE had occupied the Fort and hence the question was irrelevant.
NPC Governor said that social activists will be awarded the Governor's Award in the coming years. Awards were given by the Departments of Education and Sports Activities including the Chief Minister's award in the past.
"Steps will be taken to give away awards to social activists, farmers, efficient government officials and employees in the coming years who had been deprived of such awards in the past. Certain members have donated their lands for public use towards the social progress. When we felicitate and honour them, many others too will come forward to make donations. The applications for the Governor's Award could be obtained from the District Secretariat and return them duly filled," Governor Reginald Cooray said. (M. Roshanth)
[ad_2]

Source link