[ad_1]

The diversified conglomerate, Hayleys PLC, reported earnings of Rs.7.08 a share for the October–December quarter of 2016, against Rs.7.12 a share earned during the same period last year, as the performance was dented by a surge in finance costs due to higher interest rates and new borrowings made to make certain group investments.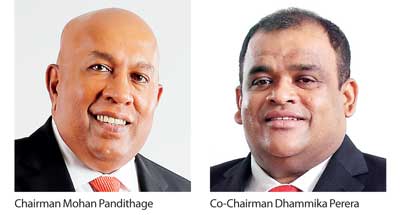 The net profit was Rs.531.3 million, down one percent year-on-year (YoY).
But revenue rose by a strong 27 percent YoY to Rs.30 billion. The finance cost rose by as much as 68 percent YoY to Rs.1.1 billion. The group made new borrowings of around Rs.10 billion during the nine months up to December 31, 2016.  In May 2016, the company raised Rs.2.0 billion via a listed debenture.   
Hayleys has interests in agriculture, plantations, construction materials, transportation and logistics, hand protection, consumer products, power and energy and leisure among a few others.The company recently announced the construction of twin towers with 55 floors each consisting of a total of 3.8 million square feet of commercial space at its head office premises down Deans Road.   
Meanwhile, for the year ended December 31, 2016, the company reported earnings of Rs.19.49 a share or Rs.1.46 billion, down 13 percent from the same period last year. 
The total revenue rose by 21 percent YoY to Rs.82.2 billion. 
The group's plantation segment weighed on the overall performance as the operating losses widened to Rs.281.2 million from Rs.28.5 million YoY.  
The other segments recorded mixed results while the hand protection segment, which underwent a tough operating period, recorded positive top line and bottom line results.
The group's leisure sector, which is represented by the group's Amaya operations, also saw its profits narrowing despite an increase in revenue.     
In July 2016, Hayleys invested US $ 23 million to buy an island resort in the Maldives to complement the city hotel and resort portfolio in Sri Lanka. 
As of December 31, 2016, business magnate Dhammika Perera together with parties acting in concert held a 50.44 percent stake in Hayleys, slightly up from 50.27 percent held in December 2015. 
The Employees' Provident Fund held a 5.04 percent stake being the third largest shareholder, slightly up from 4.89 percent three months ago.       
[ad_2]

Source link