[ad_1]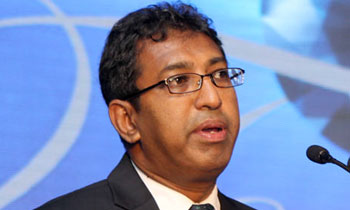 Sri Lanka's Deputy Foreign Affairs Minister Dr. Harsha de Silva this week labelled Chinese President Xi Jinping as the new champion of trade and globalization of the free world, who would fill the vacuum created by US President Donald Trump with his inward-looking political and economic policies.  
Delivering a rather intellectual talk on the ascendancy of Trump as the US President and its repercussions during a meeting in Colombo, de Silva branded Trump's policies as highly inward-looking, anti-trade and regressive and stressed that they could dampen the global trade flows as never before.
"Even though people may not take what President Xi said at face value in Davos about free trade, it looks to me that he is a greater believer of Adam Smith and David Recardo than Donald Trump," de Silva said in reference to a speech made by the Chinese president in Davos, last week.
Jinping, in a clear reference to President Trump's nationalistic views said, China would open its arms to the people of other countries and compared protectionism, quite ironically, to locking oneself in a dark room, despite China's still very strong protectionist practices.
Adam Smith and David Recardo are two of the most influential classical economists whose theories propagate free movement of goods, services, investments and people across markets with zero barriers.
The deputy minister's praises on China come at a time when Sri Lanka had to go back to China with a begging bowl at a time his government's Western-oriented foreign policy has so far failed to bring in any tangible economic or political benefit to the country.
Probably the only bright spot would be the possible reinstatement of the GSP Plus status to Sri Lanka by the European Union. But the main beneficiaries of the tariff scheme, the country's apparel exporters, have already evolved beyond the GSP Plus gains, catering to niche market segments.
Foreign direct investments (FDI) to Sri Lanka last year were woefully low at around US $ 300 million—jut one third of what the country attracted in 2014.
In the political front, Sri Lanka faces a crucial vote at the forthcoming United Nations Human Rights Council (UNHRC) sessions in March on a US-co-sponsored resolution over the alleged violations of human rights during the final stages of the war with the LTTE.
However, according to political analysts, the non-interventionist foreign policy Trump announced during his inaugural speech could lend some respite to Sri Lanka to manage its position at the UNHRC.
Meanwhile, earlier this week, signing his first executive order, Trump formally pulled the US out from the 12-nation Trans-Pacific Partnership (TPP). He also set dates with Mexico and Canada to renegotiate over two-decade-old North American Free Trade Agreement (NAFTA), delivering on his key campaign pledges.
However, according to de Silva, who is also a trained economist, the Trump policies would hardly bring any jobs back to the US despite the rhetoric and instead would make the lives of the middle-class Americans worse, as they will have to pay more for the goods and services they consume in Trump's America.
"The jobs are not going to come back. May be that the Americans (will) get paid somewhat more but then that is not going to be enough for what they are used to buying now. So, Trump says, 'I will bring back industrial jobs back to America'; it is like saying I will bring back agricultural jobs to America. So, lot of rhetoric and it will stop soon," de Silva told the 58th Annual General Meeting of the National Chamber of Commerce of Sri Lanka.
"It seems that reality television is what Mr. Trump believes in. So, this is quite ridiculous, based on lies and misconceptions and not misconceptions, just pure, absolute fabrications. Unfortunately, Sri Lanka has long experience in post-truth politics," he added.
However, during his first two days in office, Trump met America's top business leaders and leading automakers to promise incentives for their industries to manufacture at home or face a 35 percent border tax on outsourcing.
The business leaders who participated in the meetings were said to have shown their willingness to corporate with the policies of the new president.
Painting a further gloomy world under Trump presidency, de Silva said global trade, which has already slowed down from its heydays during the hyper globalization era, could further descend if the US closes its border for global goods or imposes a border tax.
According to de Silva, the signs of slowing global trade and supply chains have already hit the industries and businesses around the world.   
"And with Trump closing borders, people who are in the logistics business or freight forwarding or shipping business have already seen the repercussions. How (many) big shipping companies have gone bankrupt or they are merging because they can't survive?" he questioned.  
President Trump's policies on trade, according to de Silva, would have serious implications on Sri Lankan exports as the US accounts for 27 percent of the country's total exports.
The deputy minister said Sri Lanka could leverage Trump's eagerness to have closer ties with India to offset some of the negative implications occurring from Trump trade policies.
Dr.de Silva is a strong proponent of the much controversial Economic and Technology Cooperative Agreement (ETCA) between India and Sri Lanka. The talks on the pact have been put into the back burner due to the growing opposition from many quarters of society but the government says the pact will be inked by June this year.    
The deputy minister stressed that the current global geopolitics offers an opportune time and circumstances for Sri Lanka to open its borders to the rest of the world when others shut their doors.
[ad_2]

Source link