[ad_1]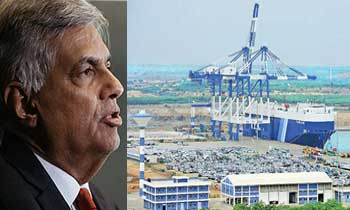 The joint venture between China Merchants Port Holding Company (CMPH) and Sri Lanka Ports Authority (SLPA) to operate the Hambantota Harbour would start operations on December 8, Prime Minister Ranil Wickremesinghe said today.
Prime Minister Wickremesinghe who was speaking at a function to distribute land title deeds to people in Deniyaya this morning said the Government was thinking of closing the port down as there were no funds to operate it.
"It was the Chinese President who suggested forming a joint venture between the Sri Lankan Government and Chinese Company," he said.
Mr. Wickremesinghe highlighted that Sri Lanka had no way of using the revenue generated from Colombo Port any longer and there was a dire need to think of another option.
He also revealed that the joint venture between the Airport and Aviation Authority and an Indian Company to run Mahinda Rajapaksa International Airport in Mattala would come into operation by March next year.
As the Prime Minister put it, the situation with regard to Mattala Airport would be same as the Hambantota Port.
Accordingly, it was stressed that Airport and Aviation Authority would turn the airport into a profit-making venture.
Mr. Wickremesinghe then listed out a number of projects associated with the Hambantota Economic Zone.
Accordingly, he said an LNG plant which would supply electricity to the entire South districts, a dockyard and tourism ventures would come in the region.
However, he said the Government was yet to decide on the Suriyawewa Cricket Stadium as no one was interested in it.
Elaborating on the debt situation, he said the Government had decided to go ahead with the settlement within the next two years, despite the advice given by some to delay the repayment.
"We did want to delay the repayment of debt which amounts to dollars three trillion as we decided not give this burden to the future generations," he said.
Ministers Sagala Ratnayake and Gayantha Karunathilaka, who also spoke said distribution of land title deeds would help people solve several issues such as getting their children admitted to schools. (Yohan Perera)
[ad_2]

Source link