[ad_1]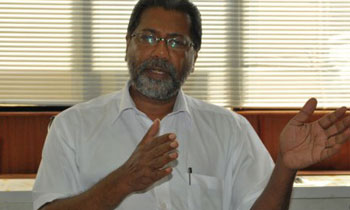 The Government had turned down all proposals made to the Subcommittee on Centre-Peripheral Relations by the Joint Opposition (JO), depriving the opportunity to establish the unitary nature of the State in the process of making the country's new Constitution, the JO claimed today.
Addressing a press briefing the JO's subcommittee representative Parliamentarian Vidura Wickramanayake said that on behalf of the group he produced 14 suggestions with the support of MP Sanath Nishantha, which had been rejected by the government.  
"Not a single suggestion, we made, was considered while setting this up. The Steering Committee with six subcommittees has been assigned to this responsibility under the patronage of Prime Minister Ranil Wickremesinghe," he said.
He said that though the Government though utters continuously that it would not breach the unitary state of the country, the content of the new constitution was not consistent.
"The facts in the new Constitution report could divide the country. Today the President has the authority to pressurise the Provincial Councils and control the wrongdoings through the Governor. So far Parliament has the sole power in law making. But it could be loosened if the Government enacts this new Constitution," he said.
Mr. Wickramanayake also said that they suspected the intention of producing such a constitutional report might be a step to push the country back to the dark ages.
"No one could save the country becoming the next Israel or Lebanon," he said.
Meantime, he said that a Constitution was a document that used for decades for the purpose of securing the people's privileges.
The MP warned that the Constitution report government had introduced was preplanned and not fulfilled the country's true needs.
Mr. Wickramanayake said that discussions were under way to withdraw their membership from the subcommittee as there was no room for the Joint Opposition's voice.
"The Constitution the Government is trying to implement only pose unhealthy results to the country as it will only serve a few politicians," he said. (Thilanka Kanakarathna)
Video by Sanjeewa
[ad_2]

Source link