[ad_1]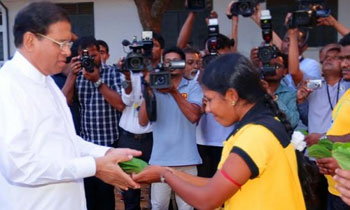 President Maithripala Sirisena reiterated that the government is working with dedication to build a drug free youth in the country.
"The youth of the country should be built as a youth with knowledge and moral values", the President pointed out.
The President was speaking at the inauguration ceremony of the Pulathisi Youth Camp – "Youth for the Country" on Friday.
He said media also has the responsibility to convey a good message to the young generation and the people of the country.
"I request all media institutions to provide a correct guidance to the youth by fulfilling your responsibility, forgetting your personal and political agendas" the President stated.
He said he would be committed to build an intelligent young generation which can win the market of scholars, also which consists of self-respect and self-confidence.
He added that the government is providing the required guidance on this regard. He also stated that he would fulfill every responsibility to build the young generation in the country.
Speaking further, the President mentioned that this is the first time when a three days youth camp is held with participation of a large number of youth based on one district, after winning the independence of Sri Lanka.
"This example which starts from Polonnaruwa, will be implemented island wide" he said.
[ad_2]

Source link