[ad_1]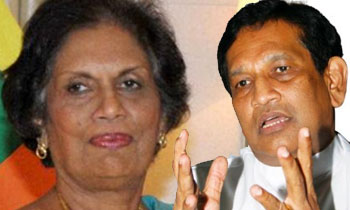 Former president Chandrika Bandaranaike Kumaranatunga responded to Cabinet spokesman and Minister Rajitha Senaratne saying she made no attempt to extend her term of office by two more years through the constitutional proposals presented to Parliament in 2000.
The following is her statement issued to Daily Mirror: "I am surprised to see a statement made by Cabinet spokesman Rajitha Senaratne about the 2000 draft Constitution formulated by my Government, where he states the UNP opposed it and did not give the seven votes required for a 2/3rd majority in Parliament, because G.L. Peiris sneaked in a clause to extend my term by two years.
"This is completely false. The Draft Constitution said no such thing. However, it contained a specific clause to abolish the Executive Presidency entirely. Our draft constitution stated that the Executive Presidency would come to an end at the end of my second term which is 2005.
"However, because the UNP was not very keen on that I suggested that the Executive Presidency would end one year after the constitution is adopted. This would have meant that I would have ended my second term by August 2001, instead of December 2005.
"Regrettably the UNP was not willing to discuss my proposal about the abolition of the Executive Presidency. Hon. Karu Jayasuriya confirmed these facts and Dr. Jayampathy Wickramaratne who was the secretary to the constitution-drafting committee mentions all this in his book relevant to the constitution.
I regret that the Cabinet Spokesman who is a senior politician has not studied the clause on the abolition of the Executive Presidency contained in my Draft Constitution of 2000.
[ad_2]

Source link