[ad_1]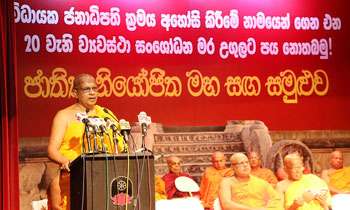 The Jathika Vidwath Sangha Sabh said the proposed 20th Amendment to the Constitution on abolishing the executive presidency was a move to divide the country and urged the President and the Prime Minister not to go ahead with this amendment.
They said this at the National Conference of the Maha Sangha held yesterday at the Sri Sambuddhathwa Jayanthi Mandiraya in Colombo.
Prof. Induragare Dhammarathana Thera, the Ven. Medagama Dhammananda Thera, the Ven. Medagoda Abayathissa Thera, the Ven. Kongasdeniye Ananda Thera, Dr. Akuratiye Nanda Thera and several others who attended the conference are opposed to the abolishing of the executive presidency.
The Ven. Induragare Dhammarathana Thera said some separatists in Sri Lanka were hoping to divide the country and would make use 20-A to fulfil their aspirations. The Ven. Medagama Dhammananda Thera claimed that this was one of the 10 pledges given by Prime Minister Ranil Wickremesinghe to the Tamil National Alliance (TNA).
The monks said it was too dangerous to abolish the executive presidency when the 13th amendment to the constitution remained. (Sheain Fernandopulle)
[ad_2]

Source link