[ad_1]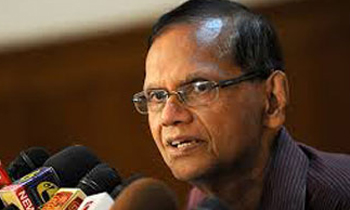 The Joint Opposition today said the country was heading towards anarchy because of the inefficient management skills of the Government.
Addressing the weekly news briefing of the JO, Sri Lanka Podujana Peramuna (SLPP) Chairman G.L. Peiris said a Petti Kade (Kiosk) had a better management than the Government.
"Sri Lanka has become a country with no Government today. No one is taking responsibility for issues and everyone keeps passing the ball," he said.
"Health Minister blames doctors, Higher Education Minister blames students, Petroleum Minister blames the IOC and the IOC blames CPC in return. Meanwhile, the Government blames Fonterra for increased milk powder prices. This is how the Government functions," he said.
Meanwhile, he said the Government's famous slogan that it inherited a colossal amount of debt from the Rajapaksa Government had been proven wrong as public debt had increased by Rs. 2.8 trillion within the last two and a half years.
"The public debt was Rs. 7.4 trillion as of December 31, 2014 and it had been increased to Rs. 10.2 trillion by June 30 this year. This is due to large-scale corruption taking place in the country including the Central Bank bond controversy," he said.
He questioned as to why the UNP or its leadership had not launched an investigation against MP Ravi Karunanayake over the charges revealed at the Bond Commission inquiry when the party had assured action against Western Provincial Councillor Randeer Rodrigo.
He said that they would contest the forthcoming election under a broad political alliance. (Lahiru Pothmulla)
[ad_2]

Source link