[ad_1]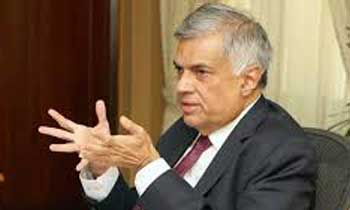 A broad discussion will be carried out on the New Constitution with the Mahanayaka Theras, other religious leaders and with the people as suggested by President Maithripala Sirisena, Prime Minister Ranil Wickremesinghe told the Constitutional Assembly today.
"We will meet the Mahanayaka Theras and other religious leaders and the people. We will also talk with political parties as the President said. The ultimate objective would be to reach a national consensus. No one can rush for a new constitution as it is a time consuming activity. We will be able to complete all discussions only by the time the next Sinhala New Year. The discussions on the Constitution will have to be stopped during the time of the local government election early next year" the Prime Minister said while highlighting that a broad discussion is needed as per the resolution under which the constitutional assembly was established.
Mr. Wickremesinghe said the government is agreeable to most of the proposals submitted by the Joint Opposition with regard to the Constitution. "You say 'Ekiya Bawaya' should be preserved we agreed to it. You say Provincial Councils should not seek to divide the country, Buddhism should be given the foremost place, Prime Minister should be elected by Parliament, Leader of Opposition should be elected by the Opposition MPs. We are agreeable to all these" he said.
Quoting the JO proposals that no Provincial Council should be allowed to merge with another Council, he said no Provincial Council could be allowed to merge unless the people in the entire country agree. "The number of PCs could be increased up to 10 or 15, or could be reduced to eight only if people want such a thing done. He said the government is open to discuss of other proposals of the Joint oOpposition as well.
He then went on to explain about the Constitutional Assembly. "I have to talk about the Constitutional Assembly. This was appointed through a resolution in Parliament. Some question about this assembly. The steering committee and other sub committees have come out with what they have discussed. All this will be put to the people and religious leaders before preparing the draft. Then it will be presented to the assembly. The Constitutional Assembly will become defunct if it is defeated. The draft will be put to Parliament after Cabinet approval if it is passed with a simple majority at the Constitutional Assembly. It will be presented to Parliament straight if it is passed by a two thirds majority in the assembly followed by other formalities," Mr. Wickremesinghe said.
He recalled that Former President Mahinda Rajapaksa sought a mandate to set up a constitutional assembly and so did the present government. "We also received a mandate to compile a new constitution. Political parties had got mandates for it. Therefore no one could say we are working against the mandate," he said.
The Prime Minister further recalled that several efforts were made to resolve the national issue in the past. He said Bandaranaike-Chelvanayagam Pact which proposed Rata Sabhas did not materialize in the 1950s while the Dudley-Chelva Pact which proposed district development councils suffered the same fate. "There was a protest against this pact and resulted in the killing of a Buddhist monk. "There would not have been an issue today if powers were devolved to district development councils. Unfortunately it could not be done as some went against it. Later the TULF claimed that they got a mandate to separate. Then there was bloody conflict. This conflict however came to an end but the national issue remained unresolved. Therefore, what we have to do is to make use of the opportunity we have before us and bring about a political solution" he said. (Yohan Perera and Ajith Siriwardana)
[ad_2]

Source link