[ad_1]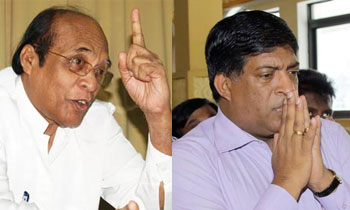 Former COPE chairman D.E.W. Gunasekera said today MP Ravi Karunanayake should be prepared to go to jail and wear the jumper, for giving false evidence at the Bond Commission inquiry.
He said the former minister had never told a truth during the investigation.
"When did Ravi Karunanayake ever tell a truth? At first, he said there was no such incident and later he said there was no connection with him. When questioned at the PCoI, he replied that he did not know how he got a housing unit from an apartment complex. After the commission completed recording of evidence, he said the commission was struggling to finalise the report and that the report would not be published," Mr. Gunasekera said.
"He then said the report was false. As far as we know, all these things Ravi said are lies. The Bond Commission has made clear allegations against him for giving false evidence. Now this issue is at the level of taking judicial action. Therefore, he cannot escape. He will have to go to jail. We remind him to be ready to go to jail wearing the jumper," Mr. Gunasekera said. (Muditha Dayananda)
[ad_2]

Source link