[ad_1]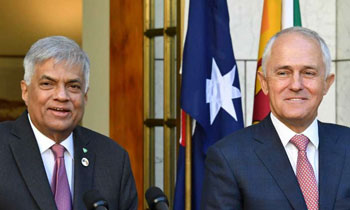 Australia has assured that it would continue to stand with Sri Lanka on the journey to achieve reconciliation and lend practical support for reconciliation measures.
In a joint statement issued by two governments at the end of the visit of Sri Lankan Premier Ranil Wickremesinghe to Australia, Prime Minister Malcolm Turnbull commended Sri Lanka on its strong economic growth and considerable progress toward national reconciliation since the end of the conflict in 2009.
Prime Minister Ranil Wickremesinghe paid an official visit to Australia from February 13 -17 at the invitation of Prime Minister Turnbull.
The two Prime Ministers underlined the importance of continuing to counter the illegal people smuggling trade, which puts vulnerable peoples' lives at risk and enriches criminal networks.
They emphasised their commitment to detect and deter people smuggling ventures and to strengthen the close working relationship between agencies.  
Prime Ministers reiterated the shared interest in regional stability.
"As Indo-Pacific neighbours, Indian Ocean Rim Association (IORA) members and trading nations, both countries benefited from a peaceful and secure maritime domain," the statement said.
The two Prime Ministers launched the tour of Australia by the Sri Lankan cricket team and noted the role of sporting exchanges in the bilateral relationship.
They also welcomed the signing of a MoU on Cooperation in Sport to deepen cooperation between professionals in cricket, basketball, swimming, volleyball, tennis, boxing, rugby, cycling, golf and baseball, as well as in sports integrity measures.
Prime Minister Wickremesinghe thanked Prime Minister Turnbull for the warm hospitality extended and invited him to visit Sri Lanka at a mutually convenient time.
[ad_2]

Source link