[ad_1]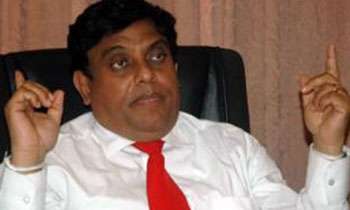 Ambassador to Qatar A.S.P. Liyanage who was accused by Deputy Minister Buddhika Pathirana of running the Sri Lankan school in Qatar for money instead of executing the diplomatic duties entrusted to him, said that he would resign from his ambassador post if the deputy minister proved the allegations made against him.
Deputy Minister Pathirana at a press briefing on Tuesday (1) said that the President, Prime Minister and the Foreign Ministry should take action against the ambassador who is attempting to snatch about Rs. 450 million (QR 9mn) worth of funds belonging to the Sri Lankan school.
He also alleged that the ambassador is trying to dissolve the school board and change the constitution in order to privatize the school.
Responding to these allegations, Mr. Liyanage alleged that the former chairman of the board of the Sri Lankan school in Qatar, Kumudu Fonseka had been misappropriating school funds for nearly 17 years and had donated money to several ministers. "The deputy minister was one of those who had received money from him and the accusations made against me was an attempt by the dy. minister to protect the former chairman of the board," Liyanage alleged.
" I request the deputy minister to come for a live television debate over the allegations made by him. If he is able to prove that I am the wrongdoer, I will resign from my post. And if he fail to do so he should resign from the post he holds as a deputy minister," he said.(Darshana Sanjeewa)
[ad_2]

Source link