[ad_1]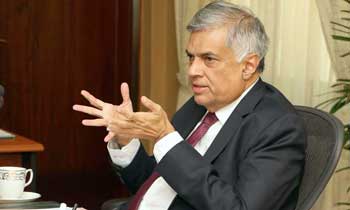 There was ample time for the preparation of a draft for the new Constitution, Prime Minister Ranil Wickremesinghe said today.
The Prime Minister made this remark at a function held in Hatton to distribute land title deeds for the plantation community last morning.
"Some are talking about a draft of the new Constitution. No draft for the new Constitution has been prepared as at today. There is ample time to prepare the draft of the Constitution," the Prime Minister said.
He said suitable sections of the interim report submitted by the Steering Committee of the Constitutional Assembly will be selected and included in the draft of the new Constitution.
"The interim report has no legal validity. Unfortunately, the media is also harping about it saying the Government is going to divide the country," he said.
"All parties have agreed on the Aekiya Raajya (Unitary State). The UNP, the SLFP and even the TNA have welcomed a Unitary State. Sri Lankan people had come together to secure an undivided country, while some in Spain and in Iraq are striving for a division. They have even got into conflict. Sri Lankan people had however given a mandate for reconciliation," the Prime Minister said.
He said people elected Maithripala Sirisena in 2015 to bring reconciliation in the country and added that the UNP and the SLFP formed a Unity Government for the same purpose.
"We, therefore, will have to bring in reconciliation through the new Constitution," he added.
Referring to the plantation community he said some of them got citizenship under the Sirima-Shasthri Pact, while others got it later together with the franchise.
"You were a community with citizenship of this country and for a franchise. However, you did not have ownership of land. Now, you will get ownership of land from today," he said.
Minister of Lands Gayantha Karunathilaka said the intention of the Government was to make the estate community a dynamic group of people.
"The Government does not want to see the future generations of the estate community becoming labourers like their ancestors," the Minister said. (Yohan Perera and Sudath H. M. Hewa)
[ad_2]

Source link