[ad_1]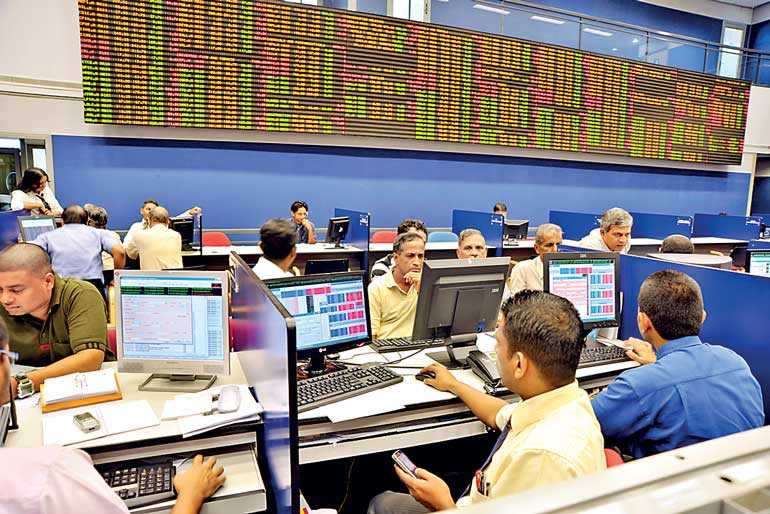 Strong performance yesterday helps All Share Price Index surpass 20 March and 12 May closing after 15% dip following reopening post 7-week COVID-19 closure
ASPI up 3.78%, highest day gain since 16 February 2012
Active S&P SL20 records highest day gain of 5.25% since index was formed in 2012
Market capitalisation up Rs. 167 b since 2020's lowest level suffered last week
Premier blue chip JKH recovers by 10% to close at Rs. 88.10
The Colombo stock market showed its resilience within a week of early battering recouping lost ground and emerging stronger thanks to positive investor sentiments brokers and analysts said yesterday.
Aided by strong buying interest the Colombo Stock Exchange's (CSE) two indices set new records and turnover was healthy. 
The All Share Price Index (ASPI) yesterday gained by 3.78% or 168 points, marking the highest rise since 16 February 2012. In the process ASPI has made a gain compared to where it stood at before reopening the market on 11 May after the seven-week closure due to COVID-19. 
The Index on 20 March closed at 4,571.63 and plunged to its year's lowest of 4,247.95 on 12 May while as of yesterday it had regained to 4,606.85. The ASPI has made daily gains for four consecutive trading days since 13 May. Yesterday ASPI hit an intra-day high of 4,634 and its year to date dip has been reduced to 25% from 30.6% on 12 May.
The S&P SL20 Index during trading yesterday gained sharply by 5.25% or 92 points, making it the highest rise since the index was formed in 2012. The index closed at 1,847.71 points. It hit the lowest for the year of 1,685.45 on 12 May. The S&P SL20's year to date decline has been reduced to 37% from 42.6% on 12 May.
The first two days of market reopening (11 and 12 May) saw S&P SL 20 Index crash by 15%.
The CSE has also recouped its lost value with market capitalisation improving by Rs. 16.4 billion since the market reopened on 11 May. Since the year's lowest of Rs. 1.977 trillion (on 12 May), the market capitalisation has increased by Rs. 167 billion. However it is yet to recoup around Rs. 300 billion lost between 6 March and 20 March as investors resorted to panic selling on account of global and local impact of the novel coronavirus.
NDB Securities and First Capital said market recovered back to the pre-lockdown state, predominantly due to the price gains in premier blue chip JKH, Dialog and Ceylon Tobacco. The share price of JKH increased by Rs. 7.60 (9.44%) to close at Rs. 88.10.
Parcel trades made in JKH and COMB boosted the turnover to Rs. 1 billion. First Capital said the market yesterday saw high domestic participation and NDB Securities said high net worth and institutional investor participation was noted in JKH and COMBank. Mixed interest was observed in Dialog Axiata, Sampath Bank and Hatton National Bank whilst retail interest was noted in Hayleys Fabric and Tokyo Cement Company nonvoting. 
CT CLSA said JKH emerged as the top contributor to turnover with Rs. 339 million for 3.9 million shares, followed by Commercial Bank – voting with Rs. 274 million with 4.9 million shares traded and Sampath Bank with Rs. 108 million turnover with 1 million shares traded.
Acuity Stockbrokers said foreign Investors recorded a net outflow of Rs. 342 million in comparison to Rs. 207.3 million on Friday.
NDB Securities said the Banking sector was the top contributor to the market turnover (due to Commercial Bank, Sampath Bank and Hatton National Bank) whilst the sector index gained 3.27%. The share price of Commercial Bank gained Rs. 1.30 (2.37%) to close at Rs. 56.10. The share price of Sampath Bank moved up by Rs. 3.60 (3.30%) to close at Rs. 112.60. The share price of Hatton National Bank recorded a gain of Rs. 0.80 (0.84%) to close at Rs. 95.80.
Capital Goods sector was the second highest contributor to the market turnover (due to JKH) whilst the sector index increased by 6.89%. Dialog Axiata was also included amongst the top turnover contributors. The share price of Dialog Axiata appreciated by Rs. 0.70 (7.95%) to close at Rs. 9.50.
[ad_2]

Source link