[ad_1]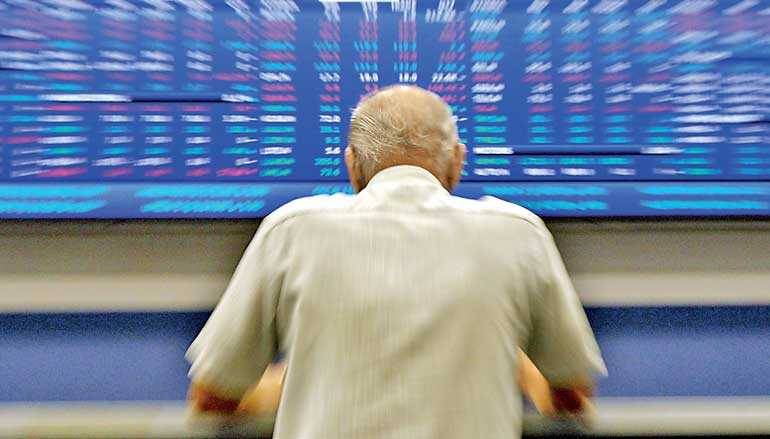 One-and-a-half months of lockdown and COVID-19 impact-driven panic selling sees CSE shut within 38 minutes of opening following 10% circuit breaking plunge 
Brokers say 10% dip sentiment figured in preopening bids and offers hence crash within seconds with only Rs. 25 m turnover lowest since 2009 
New circuit breaker rule imposed by SEC on more active S&P SL20 Index comes under flack
Analysts suggest SEC must come up with more flexible broader rule; previously after every circuit breaker fall market had a cooling period with no cap on dip
Over Rs. 400 b in value wiped off since 6 March over impact from COVID-19 pandemic 
S&P SL20 Index down 40% year to date; ASPI by 28%
Analysts insist excellent buying opportunities for investors with long-term view
Rs. 0.6 m net foreign inflow compared to outflow of Rs. 108 m on 20 March
By Nisthar Cassim
The Colombo stock market lost a staggering Rs. 84 billion in value within seconds yesterday as it opened after one-and-a-half months of shutdown with investors apparently in panic selling mode influenced by severe impact on the economy from the COVID-19 pandemic and other shocks. 
It just took 38 seconds after opening for the active S&P SL20 Index to crash by 10%, a level (circuit breaker) which now requires the closure of the market immediately as per a new directive by the regulator the Securities and Exchange Commission (SEC). 
The fact that the market crashed and closed in less than a minute is because such a dip was reflected at the preopening during which period brokers lock in bids and offers. This realisation later on pacified the originally bewildered brokers. 
In contrast to the S&P SL20, the All Share Price Index (ASPI) declined by only 4%. When the market closed, the turnover was Rs. 25 million, the lowest at closing since 9 January 2009, whilst only 4.4 million shares traded. The dip was influenced by the fall of blue chips such as JKH, Commercial Bank and Sampath Bank.
With yesterday's dip, the S&P SL20 is down by 40% year to date and the ASPI by 28%. When the CSE last traded on 20 March, the indices were down 33.7% and 25.4% respectively year to date, falling as twice as much from where it was on 6 March. During the two weeks between 9 March and 20 March the CSE lost Rs. 355 billion in value and yesterday's fall extended the figure to Rs. 440 billion. 
Brokers and market analysts attributed the crash to panic selling by investors who may have been frustrated by the seven-week closure of the CSE as part of social distancing measures and curfew to curb the spread of the novel coronavirus (COVID-19) in Sri Lanka which has killed nine and infected 856 people of whom over 320 have cured. By 20 March, Sri Lanka had 72 COVID-19 positive cases.
Investors also have downgraded prospects for equities and company earnings with the International Monetary Fund (IMF) forecasting the Lankan economy to suffer a 3% contraction in 2020 on account of the COVID-19 impact, though the Central Bank estimates a growth of 1.5% or more. 
"Selling certainly outpaced buying as cash is king whilst some investors may have sold to switch over to safer heavens such as Government securities and fixed deposits," analysts said. 
Foreign investors yesterday accounted for a net inflow of Rs. 0.6 million compared to a net outflow of Rs. 108 million on 20 March.
The market participants were however irked by what some alleged as "arbitrary" decision by the SEC to revise the circuit breaker rules during the closure of the CSE. As opposed to the earlier rule of 5% dip as circuit breaker followed by a 30-minute cooling period with no floor, the SEC decided to introduce a three-tiered circuit breaker of 5%, 2.5% and 2.5% with a cap of 10% dip at which point the market has to be closed. 
Analysts said the SEC should consider a revisit and be more flexible to introduce a broader circuit breaker. In some markets a 20% dip is allowed before the closure whilst others suggested a percentage or make closure conditional to set volume of shares traded. The latter will ensure less room for any manipulation to trigger a closure. 
With a fall of 40% by the S&P SL20 Index and near 30% by ASPI, brokers and analysts said CSE has now tremendous bargains for buyers/investors who can take a long-term view. "There is exceptional value and if perceptions improve then the market will rebound," said a broker. 
Last week President Gotabaya Rajapaksa assured that with the spread of COVID-19 successfully contained thus far, the economy will be rebuilt encouraging more foreign direct investments, exports and tourism.  
[ad_2]

Source link