[ad_1]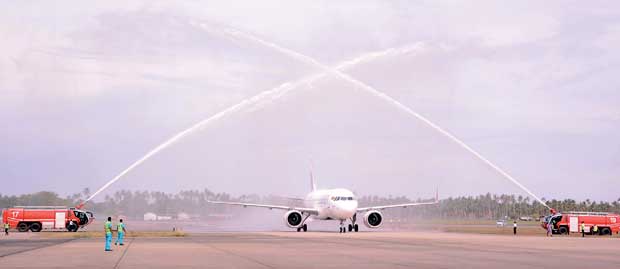 SriLankan's first A32Oneo aircraft being welcomed at Bandaranaike International Airport with a traditional water canon salute 
Pic by Pradeep Pathirana
National carrier SriLankan Airlines yesterday received its first A320neo Airbus aircraft, which the airline expects to utilize to gain more traction in the Asian and Middle Eastern markets under the airline's new strategic focus in becoming a major regional player.  
SriLankan said the second A32Oneo aircraft is scheduled for delivery in April 2017, followed by two A321neo aircraft in the second quarter. A third A321neo is to arrive before the end of 2017, with the fourth A321neo is due in the first quarter of 2018. According to SriLankan, A320neo, which has 138 Economy and 12 Business Class seats, delivers more than 
15 percent fuel saving. 
"The 'neo' series has been designed to provide significantly lower fuel consumption and lower operating costs through more modern engines, aerodynamic refinements, large curved winglets known as sharklets and weight savings," SriLankan Airlines CEO Captain Suren Ratwatte said. 
Airbus 'neo' stands for 'new engine option' and it is said to have captured 60 percent market share in its category.
"Our airline realigned its strategic focus during the last quarter of 2016 to capitalise on market opportunities in the rapidly growing travel and tourism industry in Asia, which included the launch of services to 11 new destinations throughout the Indian Ocean and Middle East regions. 
The arrival of the A32Oneo and A321 neo aircraft will better align our fleet to this objective, as these aircraft are more suited to our medium-haul operations, while we already possess an excellent fleet of A330 aircraft for our long-haul routes," SriLankan Chairman Ajith Dias said. 
SriLankan also took delivery of seven brand-new wide-body A330-300 aircraft last year, which can cater to long-haul destinations. However, London is the only long-haul destination SriLankan flies at the moment as it restructured its European routes, abandoning Frankfurt and Paris last year in an attempt to cut costs. 
SriLankan's global network covers 101 cities in 47 countries. As a member of the oneworld global airline alliance, SriLankan also connects its passengers to oneworld's worldwide network of more than 1,000 destinations in 160 countries.
[ad_2]

Source link