[ad_1]

GWP growth hits Rs.23bn—Life Rs.9.2bn and General Rs.14.1bn
Total claims paid during the quarter tops Rs.11.5bn
PBT at Rs.10.6bn; PAT unadjusted for life insurance surplus at Rs. 9.5bn
Risk based capital adequacy ratio way over regulatory minimum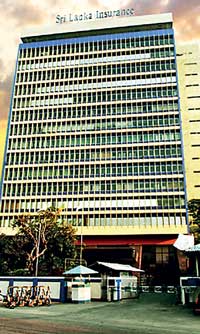 Sri Lanka Insurance, the leading insurance company in the island, has put up a strong performance for the period ending September 
30, 2017. 
Announcing an excellent third quarter performance for 2017, SLI Chairman Hemaka Amarasuriya said the company recorded a profit before tax (PBT) of Rs.10.6 billion and a profit after tax (PAT) of Rs. 9.5 billion for the period. 
The latter figure was before transferring to the Life Fund while Rs.2.09 billion was recorded as profit after tax attributable to shareholders. 
Both life and general insurance contributed to this sound performance of the company with the life Insurance sector reporting Rs. 8.7 billion as PBT and Rs.7.9 billion as PAT.The general sector achieved Rs.1.9 billion in PBT and Rs. 1.5 billion in PAT.
The company leads the general insurance sector with a 21.4 percent market share while coming second in the life sector.
The gross written premium (GWP) for the period was Rs.23.3 billion of which Rs. 9.2 billion came from the life business and Rs.14.1 billion from general. 
SLI reported a net written premium of Rs.19.3 billion with life and general contributing Rs.9.1 billion and Rs. 10.3 
billion respectively.
 
The company achieved an investment income of Rs.9.2 billion with Rs.7.8 billion and Rs.1.3 billion being attributed respectively to life and general sectors. 
The company stood in the forefront when it came to honouring claims to its policyholders. 
Claims worth Rs.4.9 billion were paid to life policyholders during the period under review while Rs.6.5 billion was paid as claims to general policyholders, making up a total of Rs. 11.5 billion in claims paid.
The risk based capital adequacy ratio, of which the minimum requirement is 120 percent, was maintained at 427 percent by SLI Life and 195 percent by SLI General.
SLI's assets base, which is the largest in the local insurance industry, continued to grow during the period under review, recording Rs.187 billion of which Rs.118 billion was from Life Insurance and Rs.68 billion from general insurance. 
According to Amarasuriya, SLI also has the largest life fund in the industry of Rs.99 billion. 
SLI was assigned AA+(lka) National Long-Term Rating and AA+(lka) National Insurer Financial Strength Rating by Fitch this August.
[ad_2]

Source link