[ad_1]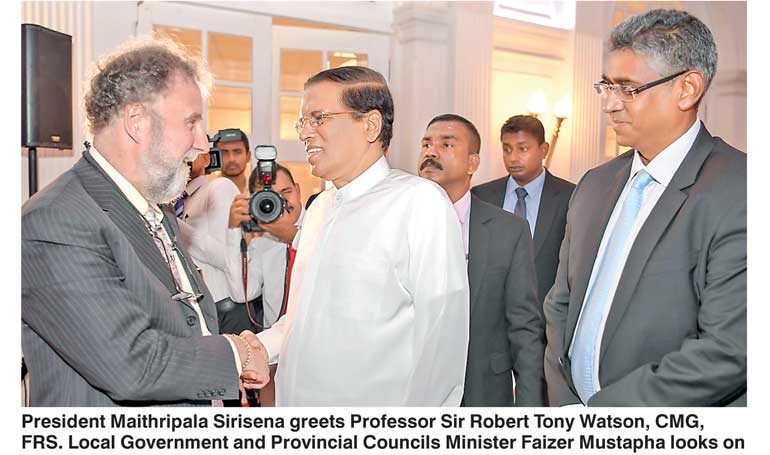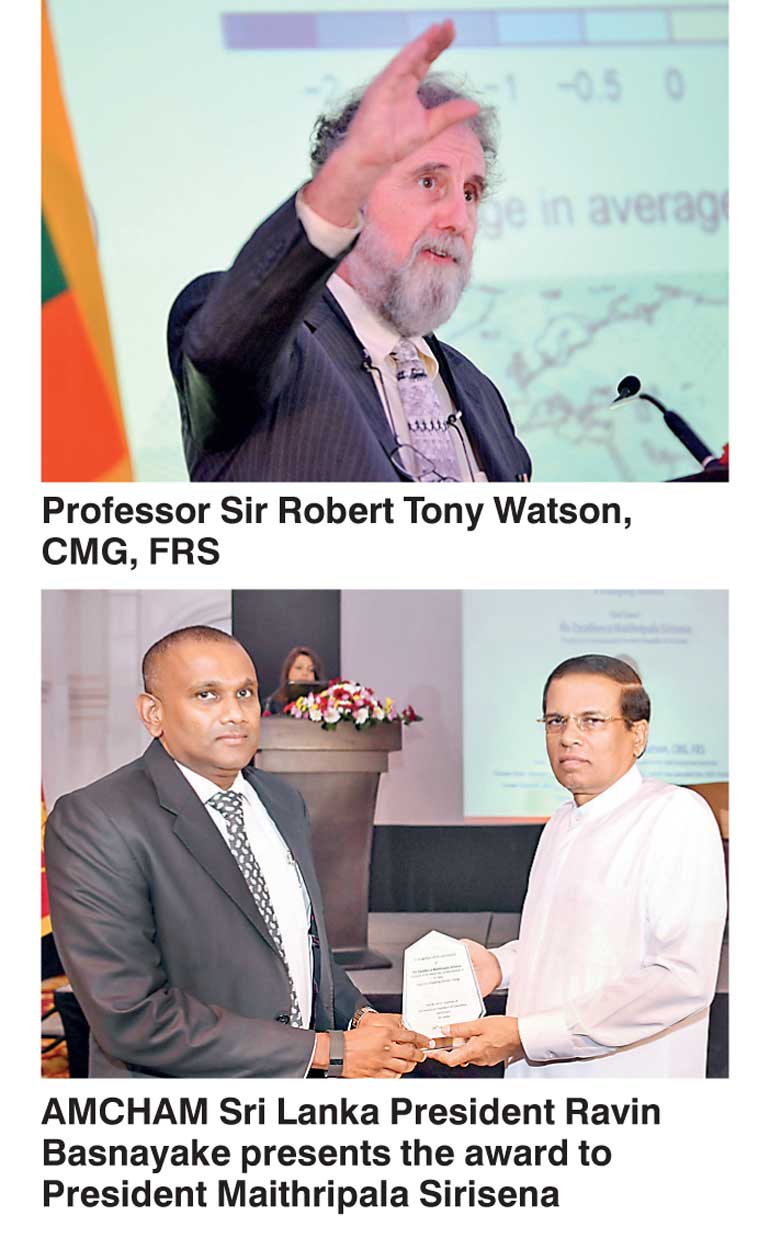 President honoured for commitment to climate change, however top energy and tourism officials a no-show at climate conference
By Madushka Balasuriya
The President yesterday received an award for his commitment to mitigating climate change from the American Chamber of Commerce (AmCham) when he attended an AmCham organised workshop aimed at shedding light on the alarming truths surrounding climate change in Sri Lanka. However, conspicuous by their absence were several other top Government officials from the energy and tourism ministries.
The keynote address at the workshop – titled 'Climate Change: Opportunities and Challenges for Business' – was given by Sir Robert Watson, a world renowned climate scientist who was knighted for his groundbreaking work 30 years prior in helping synthesise scientific knowledge concerning a hole in the stratospheric ozone layer above Antarctica.
Watson, who is in Sri Lanka on vacation, has spent the last week meeting various private and public sector stakeholders to gauge the country's attitude towards climate change. On Monday, he presented a public lecture at the Sri Lanka Foundation Institute, calling on the country to transition to a low-carbon economy and increase its resilience to climate change through cost-effective adaptation. 
Watson presented essentially the same powerpoint presentation yesterday in the hopes of getting his message – the need for Sri Lanka to implement a National Sustainable Development Strategy – through to policymakers directly.
"To develop such a strategy everyone needs to be involved. This means Government, private sector, NGOs, academia, the public, and most importantly youth. It really has to be inclusive."
"I would argue that the President would be the person that would be best suited to lead such an exercise, to give it the right status," he opined with trademark urgency to an audience that was, at the point, still awaiting the arrival of the President.
President Sirisena, who arrived midway through the Q&A session that followed Watson's address, was said to have been provided Sinhala translations of the powerpoint slides. Sirisena, who is also head of the Environment Ministry, was seen rapidly swiping through the slides on his phone while Watson answered questions from the audience. 
However, it was the lack of Government representation from the tourism and energy sectors that elicited the disappointment of those involved in the event. 
"We are rather disappointed to note that the Secretary to the Ministry of Energy, a critical component to Sri Lanka's energy and climate picture, was not able to be with us today. Nor are members from the Ceylon Electricity Board (CEB) or the Tourism Ministry, who are also extremely important in Sri Lanka's climate picture," noted Q&A session moderator Niro Cooke.
Policy inconsistencies

Indeed, it would have been interesting to hear their views on some of the points made by Watson, such as the massive inconsistencies between Sri Lanka's stated policies and recently announced plans to increase the use of coal-powered power plants. 
A policy statement made by President Sirisena in Parliament in September 2015, offered several encouraging promises on increasing energy efficiency such as the fulfilment of basic energy needs through renewable energy, the inclusion of environmental factors in decision making and, most notably, the removal of subsidies for fossil fuels in support of renewable energy.
However at present, Sri Lanka's power generation plan envisions a doubling of the percentage share of coal energy by 2034, which will represent a five-fold increase in the use of coal by CEB. The argument put forward by the CEB is that as Sri Lanka has low emissions in comparison to the rest of world, they can 'afford' to use coal power, something Watson strongly disagrees with. "This is not the world we need to see. This is not consistent with avoiding climate change, this is not consistent with the agreement made in Paris. This is not a world that I suggest is in the best interest of Sri Lanka or anyone else," he stated.
However, a Parliamentary Energy Oversight Sub Committee is currently in the process of preparing a National Electricity Policy, Strategies and Implementation Plan to achieve these policy goals. 
Reducing cost of 

renewable energy



Another point that was brought up, and one that has previously been voiced by proponents of coal energy, is that renewable energy is still not viable for Sri Lanka in terms of cost. Globally however, Watson points out, that this has been soundly disproved, with a recent World Bank survey showing that over last five years the majority of global energy capacity has been added by wind and solar energy. 
Considering also the fact that Sri Lanka doesn't face the prospect of a powerful fossil fuel lobby such as the ones in the United States, conditions seem to be ripe for investment and growth in sustainable energy in the country. 
"The basic cost of both solar and wind power have come down tremendously in the last couple years. Today, in most parts of the world, renewable energy is actually competitive with fossil fuels. Therefore it's clear that Sri Lanka should not develop more coal power plants. You have the natural resources such as wind and solar, so why stump for more coal, which is more costly to the country?"
As far as funding goes, Watson suggests that if Sri Lanka were to show a concerted shift towards sustainable development and green energy, they would be able to gain access to the UN's Green Climate Fund. The fund was recently boosted by the transferring of a second $ 500 million instalment as one of President Obama's final acts in office.
"There will be money available. Sri Lanka can go to the international community, demonstrate its vulnerability to climate change and other natural disasters, and I believe that you will be able to access that money to develop a strategy where you fully integrate your water management, agriculture management, fisheries etc."
Said Watson, "It is a challenge but we need to work together to see what the options are to make all countries in the world resilient to climate change."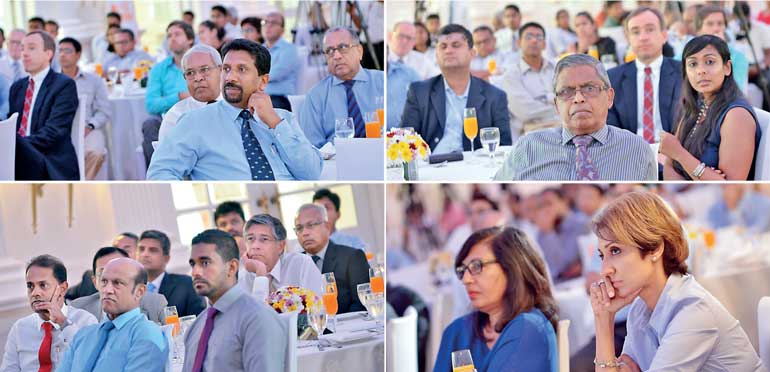 Pix by Shehan Gunasekara
[ad_2]

Source link