[ad_1]

At Economic Outlook launch, Governor says new IMF program possible in future 
Opines if SL can establish implementation framework it could assist reforms 
Says IMF should not be treated as an enemy, "difficult decisions" ought to be made by political leadership 
CCC projects consumption-led growth to benefit key sectors 
Points out even with growth turnaround SL still among slowest in South Asia 

Experts talk of need for stronger exports, access to capital, and other reforms 
By Uditha Jayasinghe 
Central Bank Governor Prof. W.D. Lakshman yesterday said a fresh International Monetary Fund (IMF) program could be on the cards in the future, provided it has a homegrown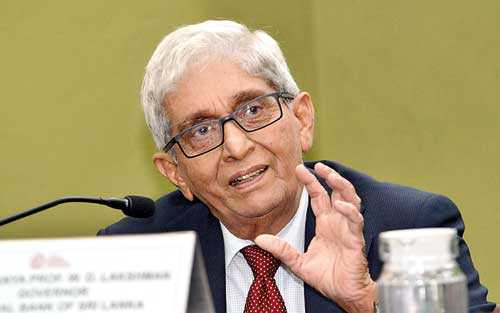 Central Bank Governor Prof. W.D. Lakshman 

– Pic by Shehan Gunasekera
implementation framework, as experts agreed Sri Lanka will have to chart a careful course balancing growth and stability in 2020. 
Speaking at the Economic Outlook launch for 2020 at the Ceylon Chamber of Commerce, Prof. Lakshman acknowledged that there were structural issues that needed to be addressed, but argued that concerns created by a significant drop in public revenue had been overstated by the IMF and rating agencies. He expressed hope that rating agencies would reverse their evaluations as the Government's plans take off. 
Referring to the latest review released over the weekend by the IMF team that visited Sri Lanka, Prof. Lakshman noted that even through there were concerns raised of weakening macroeconomic fundamentals, and a widening of the Budget deficit and the current account deficit, the IMF did note Sri Lanka was going to post stronger growth in 2020. 
"The IMF should not be treated as an enemy. We are a member and we also have rights as a member, even though our contribution may be minuscule. In the last IMF visit, I had long chats with them, and perhaps we can talk with them later on and develop a program within the kind of policy framework we can agree to. As long as that is permitted, and the IMF team told me that it is, I think there would be a discussion for a new program. Whether it is finalised easily is yet to be decided," he said. 
However, Prof. Lakshman refused to answer whether the Government would pull out of the last review expected to be conducted by the IMF later this year, before the $1.5 billion Extended Fund Facility (EFF) draws to a close around June. He nonetheless did acknowledge that structural issues need to be addressed. 
"We have a series of problems in our economy accumulated over at least six decades. Budget deficits and current account deficits have been around for a long time, and these are problems we have not addressed properly with a clear-cut policy framework. I hope at least now we will start addressing these problems, even though they may take years." 
"There are difficult decisions that ought to be made by the political leadership. I wonder whether macro fundamentals should be treated as the very basis on which the growth story can be built up. That could, maybe, be the other way around. Also I have noticed that when people are talking about reforms, there is only one particular way of reforms, and that is guided only by neoliberal ideas. But there are many options. As long as the reform process is worked out and implemented with clear objectives, the method adopted need not be a worrying factor." 
During the panel discussion, which also featured CCC Chief Economist Shiran Fernando, Asia Securities Chairman Dumith Fernando, Verité Research Research Director Subhashini Abeysinghe, and Fitch Ratings Lanka CEO/Country Head Maninda Wickramasinghe, the Governor agreed that Sri Lanka needs to perform better in exports to foster sustained growth. 
"I suppose we should also talk about domestic production – not necessarily for exports but even for import – substitution could provide some useful avenues for improved economic performance in the country. Although the expression 'import substitution' has become kind of a 'dirty word' in the past, there is still room for productive import substitution work in Sri Lanka. But not to go back to the 1970s. I am still wondering whether some of these problems of capital and exports can be addressed, at least to some extent, through development finance. This is a personal opinion, but perhaps worth looking at," he said. 
Fernando, giving an overview of the Economic Outlook, said growth would have to be balanced with stability, and recalled previous boom and bust cycles the economy had undergone. He opined apparel and FMCG sectors are expected to benefit the most from the uptick in consumption-driven growth this year, as well as global growth prospects. 
"I think growth, barring shocks, will be about 3.4%, and will go above 4% next year. But growth is also in the context of what is happening regionally as well. Compared with the rest of the region, we will be the third slowest growing economy in South Asia, so we need to move out of this narrative to at least be in the top three. The concern for the private sector is that in previous cycles, either the rupee adjusts, or interest rates do, and so there are concerns of what will happen further down the road." He also said there was space for a fuel price revision. 
Abeysinghe, giving her views during the panel discussion, pointed out that Sri Lanka needs to set realistic, data-driven targets, and that serious attention needs to be paid to increasing exports, linking to global value chains, and inking trade deals to foster sustained growth. 
"Sri Lanka is a country that always sets targets, misses targets, and then downgrades targets. This is the same situation that we see in the exports sector. When we passed the $10 billion export target, we set a target of $20 billion only for goods by 2020. When it was clear we could not meet it, the former Government combined goods and services and set a target for $20 billion. This is highly problematic, because the ways to collect services data remains extremely weak. When you don't have that, it is even easier for any Government to massage the numbers as well. When you have a goods-only target for $20 billion, and ten years later it is changed to a goods and services target, this is significant doubt of our export performance, and that is extremely unfortunate." 
"One of the problems with Sri Lanka's export sector right now is that it is totally out of sync with local developments, and it is also out of sync with global developments. One of the major disparities in the current export basket is that Sri Lanka has transitioned from being a low-income country to an upper-middle-income country. But our exports are stuck in low-cost, low-skilled, labour-intensive sectors, and there is a total incompatibility with it."
She insisted that even though the Government has targeted a $6,500 per capita income in the next five years, with double-digit increase in exports, this would be extremely difficult given that 45% of Sri Lanka's exports are made up of apparel, and with low productive agriculture accounting for another 22%. "This is not possible, because you are not compatible with your structure, and every other country that has transited from low-income to middle-income has also transitioned out of low-skilled and labour-intensive sectors.
"How we are out of sync with international developments is because we are not linked to international value chains, which accounts for more than 50% of global trade. The other trend is China as a market. Unfortunately Sri Lanka's story about China is all debt and loans. Only 2% of our exports go to China, whereas our East Asian neighbours export more than 10% to China, which means they have been made to make use of global trends." 
Sri Lanka's choice to remain outside free trade deals has also not served it well, Abeysinghe noted, pointing out that in 2000, the world had only 100 trade agreements, but by 2018 there were 300 trade agreements. In the same period of time, trade agreements of Asian countries grew from 37 to 160, with 70% including both goods and services. "These are some of the reasons why we have stagnated, and we have really, really think and do things differently." 
The stagnation of growth seen in Sri Lanka in the past few years necessitated stimulus, Fernando argued, but acknowledged that given debt dynamics, caution over fiscal policy will be needed in the future. "Growth is the only solution for debt, and we cannot get out of our high debt with just 3% growth. In the last few years, we played around with internal consumption, but what did not grow was external demand. When you are trying to stabilise a country for the long term, and don't want to completely suffocate the local corporate sector, we have to have foreign demand coming through. What I hope to see is that the export sector is given a thoughtful boost, not just a boost along traditional industries." 
Wickramasinghe focused on the importance of policy consistency, need for action plans to tackle key challenges such as capital needs, State enterprise reform, and targeted welfare requirements. He also pointed out it was Sri Lanka's responsibility to ensure macroeconomic fundamentals. 
"The external risks exist, but they are moderated, while the risk from fiscal slippage is expected to be higher, and that is worrying. Sri Lanka can demonstrate that we are capable of meeting revenue gaps, which is where the main problem lies. If you have a stable macroeconomic environment, there is no reason why we cannot attract FDI."
[ad_2]

Source link