[ad_1]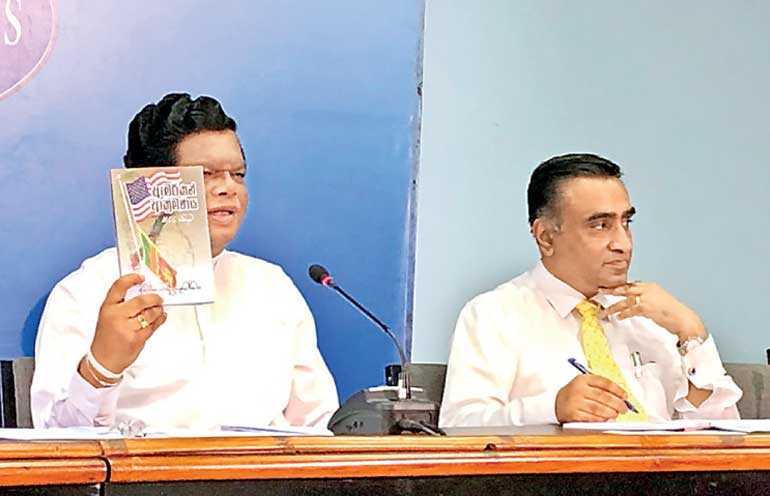 Cabinet spokesman Minister Bandula Gunawardana shows off the book he wrote on the MCC agreement during the post-Cabinet meeting briefing yesterday 
– Pic by Chandani Kirinde
PM presents four-member Committee report to Cabinet 
Report warns some features in agreement threaten national security, social and economic welfare
Asks for transparency when considering signing agreement with mandatory parliamentary approval
Cabinet Spokesman says agreement drawn up at UNP's whim
Says Govt. open to renegotiating with US Govt.
By Chandani Kirinde
The Government has decided not sign the $ 480 million Millennium Challenge Corporation (MCC) agreement, taking into consideration the recommendations of a four-member Committee that studied it and found some of its features threaten national security and social and economic welfare of Sri Lanka, Cabinet spokesman Minister Bandula Gunawardena said yesterday.
The four-member committee headed by Professor Lalithasiri Gunaruwan, which submitted its interim report to President Gotabaya Rajapaksa last week, pointed out there were clauses and conditions in the agreement that would negatively affect national goals and objectives, sovereignty, and national security, and were inconsistent with the legal framework and Constitution of the country, the Minister said.  The report was presented to the Cabinet by Prime Minister Mahinda Rajapaksa on Thursday, and a decision was taken not to sign the agreement, he said.
"This agreement was drawn up by the UNP according to its whims, without taking the interests of the country into consideration. We warned about this during the elections, and I translated the entire agreement into Sinhala and published a book based on it, so that people could understand the dangers of signing such an agreement," he said.
Gunawardena said the Committee had recommended that safety clauses be included in the proposed composite agreement, as well as program implementation, if the Government decided to go ahead.
"We are open to discussing this agreement with the US Government, but it will be done with full transparency. If any agreement is signed it will be with Cabinet approval as well as with the consent of Parliament and the public," Gunawardena said.
He said that as it is an outright grant, the Government will not be burdened with repaying the money, while adding that "sometimes you have to look a gift horse in the mouth."
The two components of the MCC program are transportation infrastructure development and land administration, with $ 350 million for the transport project, which was to focus on modernising bus transport and improving traffic management systems, while the smaller component of around $ 60 million was for a plan to improve the land administration policy in Sri Lanka.
Asked if the Government would reconsider two other agreements signed with the US Government, namely the Status of Forces Agreement (SOFA) and Acquisition and Cross Services Agreement (ACSA), Gunawardena said the Government would not overturn any agreements that have already been signed.
"We only spoke on the MCC during the election campaign, and hence we appointed a Committee to study it and took the desired action," he said.
The other members of the Committee are former Secretary to the Ministry of Transport D. S. Jayaweera, Nihal Jayawardena PC, and architected Nalaka Jayaweera.
[ad_2]

Source link