[ad_1]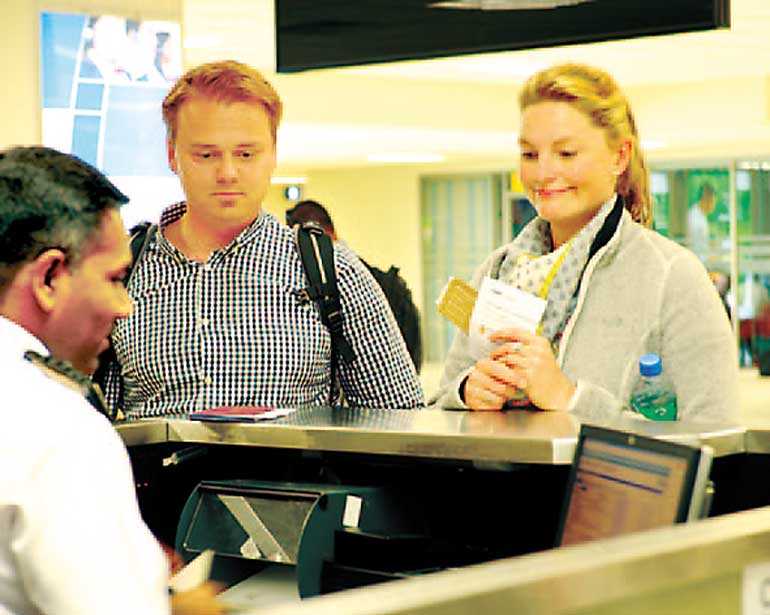 Bans arrival of passenger aircraft from 4 a.m. 19 March for 1 week

BIA will remain open for departing flights/passengers, transit, cargo traffic

President says move essential to deal with coronavirus outbreak, given lack of quarantine capacity and capability 

Aviation experts say Govt. could have avoided blanket ban, but Airport Chief, GMOA welcome decision

SriLankan Airlines to operate outbound flights given strong demand; Emirates too to continue, may reduce to 2 daily flights

Board of Airlines Representatives to meet at emergency session today
By Nisthar Cassim
The Government yesterday decided to ban the entry of visitors from tomorrow for one week in a partial shutdown of the Bandaranaike International Airport (BIA) as a drastic measure to contain the spread of new coronavirus (COVID-19).
The move, decided by President Gotabaya Rajapaksa, was first revealed when he chaired a meeting of the COVID-19 National Task Force last morning. 
From 4 a.m. on 19 March, the entry of any national including Sri Lankans will be banned whilst the BIA will continue to service transit passengers and cargo as well as remain open for departures. 
President Rajapaksa told the COVID-19 Task Force meeting that Sri Lanka didn't have the capacity nor the capability to quarantine all arriving passengers, hence as a temporary yet critical move the partial shutdown of the BIA was necessary to contain the spread of COVID-19. 
Initially it was to be a two-week ban but the Civil Aviation Authority (CAA) confirmed later in the evening it would be for one week until 25 March subject to review by the Sri Lankan authorities.
As of yesterday, over 40 Sri Lankans have tested positive for the virus and over 1,800 either undergoing tests or being quarantined at 16 dedicated centres countrywide as well as another 1,500 recent returnees from Italy and South Korea failing to go through quarantine. 
SriLankan Airlines Chairman Ashok Pathirage told Daily FT the National Carrier would deploy as many aircraft as possible to bring in the most number of passengers, including Sri Lankans, before the partial shutdown takes effect. 
From 19 March, the airline is expected to operate outbound flights in tandem with demand though it means return flights will be empty. 
Airline industry experts said at present there was strong demand for outbound flights and it made commercial sense for the National Carrier to continue to operate on select routes rather than grounding its fleet. 
A spokesman for Emirates Airline, the largest foreign carrier, also confirmed to Daily FT that outbound traffic was strong at present and it would continue to operate though the frequency may be reduced. Currently, Emirates flies four times a day between Colombo and Dubai and this may be reduced to two per day. Emirates will review the market and operating conditions before making a final decision. 
SriLankan Airlines too will review demand and by tomorrow decide how many aircraft are to be deployed along with frequency and destinations.
President Rajapaksa's decision to ban the entry of visitors comes amidst existing restrictions placed on arrivals from 17 countries worst impacted by COVID-19. They are Italy, Iran, South Korea, the UK, Germany, France, the Netherlands, Belgium, Norway, Spain, Switzerland, Denmark, Sweden, Austria, Canada, Qatar and Bahrain. 
Several lobbies, including the Government Medical Officers' Association (GMOA), urged the shutdown of airports and seaports as drastic measures to contain the spread of COVID-10. At the COVID-19 National Task Force meeting, GMOA officials commended President Rajapaksa for taking this critical step. 
Aviation industry experts nevertheless opined that the Government could have continued with targeted action as opposed to a blanket ban on all arrivals.
"There has been strong inbound traffic from the UK, Australia, Singapore and Dubai, countries which have relatively well managed the COVID-19 outbreak. However, the partial shutdown means disruptions to revenue generating routes. The Government alternatively could have stepped up screening at the BIA and expanded capacity of quarantine centres," they pointed out.
However, Airport and Aviation Services (Sri Lanka) Ltd. (AASL) Chairman Major General (Rtd.) G.A. Chandrasiri said the partial shutdown of the BIA was a step taken in the right direction to prevent an outbreak of COVID-19.
He told Daily FT the partial closure was taken in the interest of protecting the lives of all people and not necessarily an economic decision.
"Right now the priority is to safeguard the lives of our people and mitigate the spread of the virus. We have not done any economic assessment on the closure of the airport for one week till 31 March," he added.
With arrival counters being closed from tonight, Chandrasiri said they would reduce the number of staff working at the airport.
The Board of Airlines Representatives (BAR) is scheduled to have an emergency meeting today to discuss the partial shutdown of the BIA, its impact and the way forward.
A spokesman for BAR told Daily FT that they were awaiting fuller and final details of the new arrangements at BIA to make a proper assessment of the challenges.
He said SriLankan Airlines alone operated about 45 departures a day and from tomorrow onwards the number will wary. The airlines are likely to operate within the new guidelines given the national crisis situation over COVID-19.
Civil Aviation Authority of Sri Lanka Chairman Upul Dharmadasa last evening informed all online and offline carriers that according to instructions received from Sri Lankan health authorities, all international airports in Sri Lanka will be closed for operation of inward international commercial passenger flights (i.e. arrivals) with effect from 4 a.m. on 19 March (local time in Sri Lanka) until 11:59 p.m. on 25 March (local time in Sri Lanka).
The closure will be reviewed by the Sri Lankan authorities. During this restricted period the following will be permitted: 
1. Aircraft departures with passengers originating from Colombo, stopovers, transit passengers or visiting tourists. 
2. Emergency diversions to BIA.
3. Freighter operations and humanitarian flights to BIA.
4. Technical landings at BIA.
5. Inbound ferry flights (without passengers) at BIA.
CAA advised airlines to strictly follow the new guidelines. 
[ad_2]

Source link