[ad_1]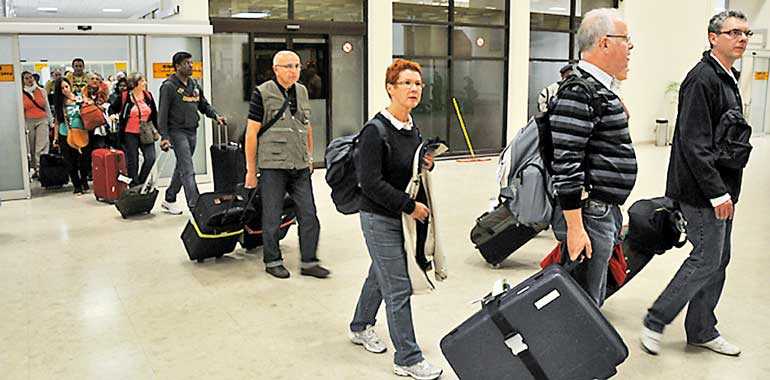 Tourists arrive at the Bandaranaike International Airport – File photo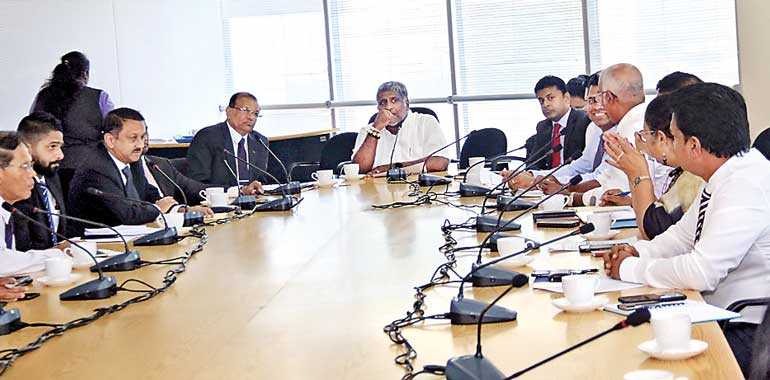 Tourism Minister Prasanna Ranatunga during his meeting with airline representatives on Friday
Tour operators, travel agents say coronavirus global epidemic triggers cancellations; forward bookings bleak

Govt. to reduce costs to attract airlines to call at Mattala, Ratmalana

Embarkation tax at Mattala to be suspended for two years, cut by 50% at Ratmalana

Landing and parking charges waived off; aviation fuel to be issued at concessionary rates

Airlines meet Tourism Minister to seek support at BIA whilst welcoming concessions at new airports

Industry experts say concessions at BIA critical to sustain aviation and tourism sectors

Moot discounts or waive-off charges to encourage new airlines to call Colombo during off-peak hours as capacity idling at BIA
By Charumini de Silva
With tourism hit by multiple crises leading to cancellation, the Government has announced a slew of measures to attract airlines to call at new international airports in Sri Lanka though industry stressed concessions needed at main entry point Katunayake. 
Travel agencies and tour operators are reeling from widespread holiday cancellations in Sri Lanka by tourists with the rapid outbreak of COVID-19. "The Chinese market has gone dead. There is a major drop in the bookings from Japan, South Korea etc. Overall, the Far Eastern market has cancelled many bookings and there are hardly any forward bookings at the moment," industry sources told the Daily FT. 
China is among the top three tourist sources for Sri Lanka, according to the Sri Lanka Tourism Development Authority (SLTDA), with 167,863 visitors – 9% of the total – holidaying in 2019. In January alone, Sri Lanka received 22,363 Chinese tourists, which accounted for 10% of the total traffic. In 2019, Sri Lanka received 217,477 tourists from North-East Asia and 68,904 from South-East Asia.
Despite the excellent response received during the first two months during the winter season, the forward bookings from European markets have also slowed down significantly in the last week of February as a result of the outbreak of the coronavirus.
"Italian groups are cancelling most of their bookings, while with other source markets, such as the UK and Germany, we see a slowness. Bookings for European summer holidays have also declined due to the spread of the virus in their own regions," they said.
Europe became the largest source of tourist traffic to Sri Lanka with 50% of the total traffic received in January. Asia and Pacific accounted for 40% of the total traffic, Americas 6%, and the Middle East, 3%.
The industry said there was not much visibility of business at present. 
"Those days, we were able to predict depending on a situation, but now, for various reasons like terrorism, natural calamities and to get price advantages, travellers wait till the last minute to make the booking. So the advanced visibility we had those days is not there anymore and the spread of the COVID-19 has worsened this situation," he stressed. 
The industry is also projecting a 35-40% drop in their revenue compared to 2019 owing to the double blow of the Easter Sunday attacks last year and the novel coronavirus outbreak.
The industry is urging Sri Lanka Tourism to take swift measures to implement the Board-approved promotional campaign targeting different markets. 
"With the appointment of the new Government, there was hope that aggressive promotional activities will take place, but it seems that authorities are less determined to carry those out until the General Election is held. There's nothing called bad seasons, it is all about good marketing and bad marketing – that makes the difference," they pointed out.
It was emphasised that the key challenge now is all about surviving the first five months and seeing where the industry is heading as it is too early to predict. 
"At this point in time, no one can say what the numbers are going to be. It solely depends on how we manage the spread of COVID-19 and how Sri Lanka Tourism will get their act together to market the destination," they stressed. 
According to Tourism Minister Prasanna Ranatunga, the objective for 2020 was to draw 3.5 to four million tourists and earn an income of around $ 5 billion.
The new Government, under the leadership of President Gotabaya Rajapaksa, has a vision to attract five million tourists and $ 10 billion in foreign exchange earnings by 2025. Last year, tourist arrivals slumped to 1.9 million from 2.3 million in 2018 and earnings were down to $ 3.6 billion from $ 4.3 billion.
Tourism contributes nearly 5% of the country's gross domestic product (GDP), while around two million people are estimated to be directly and indirectly dependent on it. 
Largely as a development move, the Cabinet last week decided to cut embarkation taxes and handling charges, and provide aviation fuel at concessionary rates to attract airlines to the Mattala Rajapaksa International Airport and the Ratmalana International Airport.
According to a proposal by Tourism and Civil Aviation Minister Prasanna Ranatunga, which was approved by Cabinet, the embarkation fee of $ 60 will be completely suspended at the Mattala Airport for two years while it will be reduced by 50% for one year at Ratmalana.
Landing and parking charges for international airlines at the two airports will also be suspended for a year in a bid attract more airlines to use these airports while aviation fuel will be issued at concessionary rates.
Soon after the Cabinet approval of new measures, Tourism and Aviation Minister Ranatunga on Friday urged international airlines to start flights to the Mattala and Ratmalana airports.
The request was made at a meeting held between the Minister and international airline representatives. The meeting was held to discuss the issues faced by the airlines and launching international flights at Mattala and Ratmalana airports.
Air India Country Manager Jaya Sharma expressed hope to commence flights between Ratmalana and Chennai in the immediate future, while noting that introducing of flights to Mattala was also on their cards.
The managers of several other international airlines who were present at the meeting also agreed to initiate international flights to Mattala and agreed to inform their management about the new incentives.
Airline representatives pointed out to the Minister that international flights have been hampered by the outbreak of COVID-19. They also requested the Minister to make a submission to the Government in this regard, where the Minister had said that the Government would pay attention to this matter.
The Minister has instructed the Civil Aviation Authority (CAASL) Director General to provide him with a full report on the matter.
Airport and Aviation Services Ltd. Chairman Rtd. Major General G.A. Chandrasiri, CAASL Chairman Upul Gunatilleke, and SriLankan Airlines Chairman Ashok Pathirage were also present at the meeting.
However industry experts said that the Government needs to offer meaningful concessions at the Bandaranaike International Airport if to ensure airlines continue to operate as well as attract new ones. It was emphasised that serious consideration must be given to offer discounts or waive-off charges to encourage new airlines to call Colombo during off-peak hours as capacity was idling at the BIA. At present the average departures per hour at the BIA is less than 10 flights.  
ITB trade fair cancelled due to COVID-19 
FRANKFURT (Reuters): Germany's ITB Tourism Fair has been cancelled due to the spread of the novel coronavirus (COVID-19), organisers Messe Berlin GmbH said on Friday.
The fair was due to take place next week, with around 10,000 exhibitors scheduled to attend. 
It was called off following advice from Berlin's health and economics ministries, and after its health authority asked organisers to impose stricter controls on potential visitors, Messe Berlin said. 
"The health authority in Berlin-Charlottenburg dramatically increased preconditions for the fair," it said in the Tweet. 
Every visitor would have had to prove to Messe Berlin that they had not travelled from a high-risk region, and to have had no contact with people from those regions. 
"These preconditions could not be met by Messe Berlin," the event organiser said. 
It was the second high-profile international trade fair to be cancelled on Friday, following a decision by Swiss authorities to stop the Geneva car show. 
[ad_2]

Source link