[ad_1]

$ 4.4 b foreign debt repayment this year, of which $ 3.2 b is due between May and December
$ 13.8 billion falling due between 2021 and 2023
Dr. Jayasundera says Govt. has approached bilateral and multilateral donors for debt repayment relief
Seeks IMF support to replace EFF to Rapid Credit Facility offering concessionary funding with less conditions; SL could stand to get $ 800 m if successful
Govt. asks WB, ADB to make higher allocation from agreed medium-term funding arrangements
Seeks 2-year debt moratorium from bilateral development partner lending 
SL committed $ 1 b Intl. Sovereign Bond redemption later this year
Dr. Jayasundera reiterates Sri Lanka will under no circumstances dishonour debt obligations and investor trust
Morgan Stanley says  should global debt suspension initiative be extended to Sri Lanka, it could yield debt suspension worth $ 1.2 b n 2020 and another $ 2.6 b in 21-22
By Nisthar Cassim
The Government has stepped up efforts to secure global support for Sri Lanka's medium-term external debt, servicing of which will become challenging with the serious impact of COVID-19.
Net foreign debt servicing for 2020 is around $ 4.4 billion and includes a bilateral and multilateral component worth around $ 2 billion and a $ 1 billion International Sovereign Bond (ISB) payment due in October.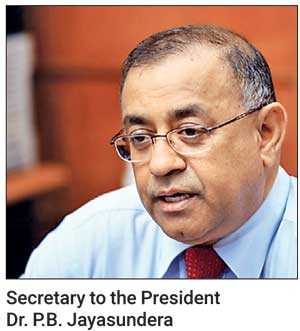 According to Fitch Ratings, liability between May to December 2020 amounts to $ 3.2 billion. From next year until 2023 around $ 13.8 billion of foreign debt will come due.
"Debt repayment is the only payment that is ongoing despite difficulties and challenges from the early part of the year and since the outbreak of COVID-19. Sri Lanka has honoured its debt and will continue to do so," Secretary to the President Dr. P.B. Jayasundera told the Daily FT in an exclusive interview. As foreign inflows have come down due to external shocks linked to COVID-19, the Government is using internal resources to retire debt to date, he added. 
"Our commitment is Sri Lanka will under no circumstances dishonour debt obligations and investors' trust in our financial system. We haven't defaulted even amidst full-scale war with terrorists and its economic consequences. We certainly don't want to be an Argentina. We want to be a responsible Government and enhance cred- ibility. This is the path we are keen to pursue," Dr. Jayasundera said.  Nevertheless, with the COVID-9 pandemic causing unprecedented social and economic disruptions globally, Sri Lanka has acknowledged the daunting challenge in debt servicing. 
Recently G20 finance ministers and central bank governors called for a time-bound suspension of debt-service payments on bilateral debt for the poorest countries that request forbearance until end-2020.
Dr. Jayasundera said when the World Health Organisation (WHO) declared COVID-19 as a pandemic on 15 March, President Gotabaya Rajapaksa requested its Director General Tedros Adhanom to request developed nations to give debt relief to poor countries. 
"We have officially requested all our bilateral and multilateral development partners to favourably consider extending support to Sri Lanka at this hour of need," Dr. Jayasundera said.
"From the IMF the Government has asked to replace the current Extended Fund Facility (EFF) with the Rapid Credit Facility (RCF)," he added.
RCF provides rapid concessional financial assistance with limited conditionality to Low-Income Countries (LICs) facing an urgent balance of payments need. The RCF was created under the Poverty Reduction and Growth Trust (PRGT) as part of a broader reform to make the IMF's financial support more flexible and better tailored to the diverse needs of LICs, including in times of crisis. The RCF places emphasis on the country's poverty reduction and growth objectives.
The $ 1.5 billion EFF program by mid last year was off-track as Sri Lanka failed to meet underlined conditions.
"Sri Lanka now has a different policy regime than when the EFF was agreed upon and in a COVID-19-impacted environment, a program like EFF or structural programs cannot be fulfilled," Dr. Jayasundera explained. 
"We need emergency funding to meet and manage healthcare and social security amidst the COVID-19 crisis and accrue economic dynamics. That is the logic. Under RCF around $ 800 million support is possible and we are confident the IMF will consider our request favourably."
Similarly the Government has also asked the World Bank and the Asian Development Bank to reallocate as much as possible from their existing allocation of three- to five-year portfolio of Sri Lanka. "Such support can help Sri Lanka meet budgetary needs," he added. 
The Ceylon Chamber of Commerce recently suggested the Government should seek one- to three-year moratoriums from multi-lateral and bilateral lenders in order to ease the pressure on budget deficits due to foreign borrowing falling due.
Dr. Jayasundera said that for example additional funds were transferred from an existing World Bank capacity building project with the Central Bank, a $ 25 million project of which $ 15 million was pending and this was drawn to support the Central Bank refinancing scheme for banks to support COVID-19-hit businesses, SMEs, self-employed and others.
The Government is also talking to bilateral development partners such as Japan, China, EU, US, Canada and India, for a deferment of dues for the next two years.
"Most of the investors in Sri Lanka's ISBs are funds such as pension and provident funds in the West and not banks. That is why we hope the EU and US especially will consider our request for debt service moratorium," Dr. Jayasundera said. 
"These partners can look at multiple support – budget support, debt equivalent grant, other financing, or simple deferment," he added. 
Global investment bank Morgan Stanley in a report last week said should the global debt suspension initiative be extended to Sri Lanka, it could yield debt suspension worth $ 1.2 billion in 2020. If the initiative is extended to 2021-'22, it may bring in another $ 2.6 billion worth of debt suspensions.
[ad_2]

Source link