[ad_1]

Qatar offers greater business potential for Sri Lanka -Rishad
Qatar records highest GDP per capita in the world
Inviting Qatari investors to Sri Lanka -Rishad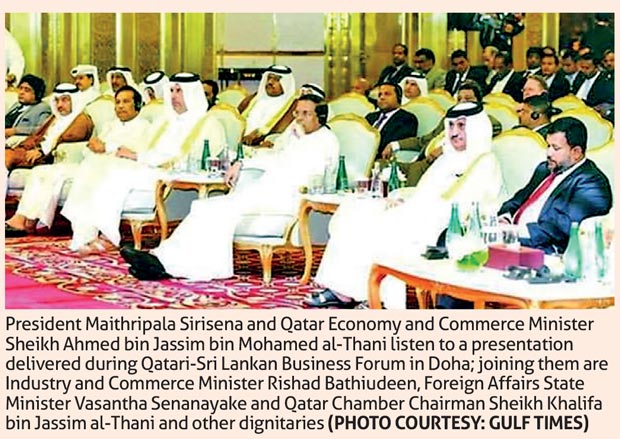 Sri Lanka is aiming to expand its presence in Qatar, Industry and Commerce Minister Rishad Bathiudeen said.
"Sri Lanka is aiming to expand its presence in Qatar, specifically in the Qatari employment market. Our professional, skilled and semi-skilled workforce has the capacity to contribute productively to the growth of the Qatari economy." Joined by President Maithripala Sirisena, Bathiudeen was addressing the Qatari-Sri Lankan Business Forum in Doha recently. 
According to the Commerce Department, Sri Lanka's exports to Qatar remain low, averaging around US $ 14.5 million in 2016. 
The main export items from Sri Lanka include bananas, including plantains in fresh or dried form, edible preparations, coconut milk powder, tea, sweet biscuits, apparel, vegetables in fresh or dried form, etc. while products such as plastics, aluminum products, paper and paper products, iron and steel products, organic chemicals, etc. are featured as its key import items from Qatar. 
Sri Lanka's total imports from Qatar stood at US $ 30.1 million in 2016.
"We all know that Qatar has a very good potential in the fields of education, technology and infrastructure. We are looking forward to establishing fruitful business linkages and partnerships with Qatari authorities in all conceivable areas for co-operation," said Bathiudeen.
He added, "Sri Lanka is also blessed with an expat-friendly environment with housing, leisure and schools to accommodate the needs of the business and the entrepreneurial community, which stands out as an added advantage. 
I invite Qatari business personnel and the Sri Lanka diaspora to acquire the full advantage of this forum and the opportunities present in my country. Our government has embarked upon a new direction, which also gives an important place to recognizing the ability of the Sri Lankan diaspora to join hands with us in the socio-economic development process." 
He said Sri Lanka is not immune to the global fluctuations that affect its market potentials considerably and it is in this context that Sri Lanka looks for new markets and seeks to consolidate greater economic relations with friendly nations such as Qatar.
"We are implementing a series of reforms to revitalize Sri Lanka's export competitiveness including the ease of doing business. It will integrate the country more closely with the region and the rest of the world. The supportive legal reforms to be introduced particularly to inland revenue, foreign exchange, state land bank and anti-dumping, will considerably improve the business-friendly environment.
The Qatari market is an important destination for Sri Lanka. There is greater potential available to be tapped by our business sector. It is therefore our hope that this forum will create a platform for networking by both our entrepreneurs and the business personnel to reap the expected targets in our trade and investment relations," he said.     
According to the Commerce Department of Sri Lanka, Qatar is also an important employment market; Sri Lankans are mostly employed in minor job categories.  
[ad_2]

Source link