[ad_1]


Yesterday's scramble to buy essentials, with long queues forming in humid weather, has prompted experts to urge the Government to rethink how it balances COVID-19 countermeasures with normality for citizens.
Despite knowing in advance that the imposition of curfew at 12 noon yesterday was not practical, the Government went ahead, only to postpone curfew until 2.00 pm. The extension came too late, with thousands of people queueing up outside supermarkets from the early hours of the day, and latecomers having to weather the heat. By 2.00 p.m., not all had succeeded in buying essentials, and many went home empty-handed.
In the city and suburbs, queuing up and shopping was orderly, but physical distancing was forgotten in markets frequented by working class citizens, such as Manning Market and other people's markets, reinforcing the Health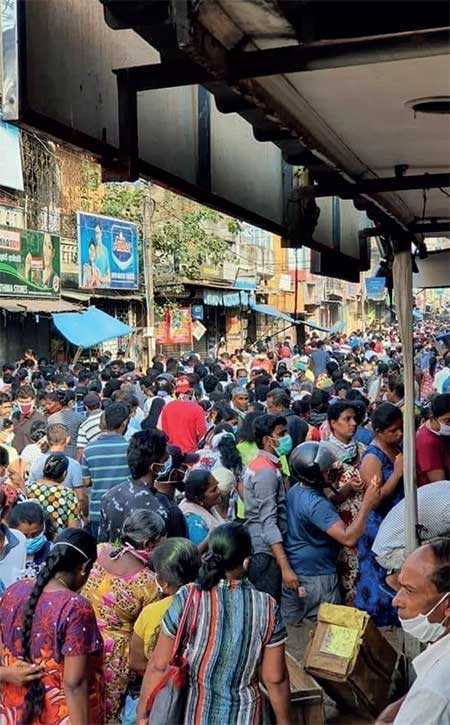 authorities' concerns.
The Government has not yet announced the next round of curfew-free hours within which people may buy essentials, a step that many experts suggest the State should take. Others noted the Government could have enabled shopping on a staggered basis, area by area, on a daily basis, so as to ease the scramble and panic-buying.
Retail industry specialists said the Government should allow supermarkets and small groceries to be open until evening, even during curfew hours, as in some other locked-down cities and countries.
"This will prevent the mad rush," they said, adding that to do so, the Government needs to allow the staff of the respective retail outlets to travel to the outlets.
Another expert noted Sathosa has over 3000 lorries, and those could be used to transport essential food items for sale in populated areas during curfew hours. Streamlined distribution should be in place to avoid a stampede. "On average, 10 persons are allowed to enter the outlet at a time, due to social distancing. They spend 20 minutes inside. Which means 30 persons per hour. In 5 hours, 150 to 200 persons. But there were over 500 persons waiting in the queue," they pointed out.
In a welcome move, the Government decided to allow all pharmacies to remain open, as well as to allow the transport and unloading of fish, during curfew hours.
A marketing specialist told the Daily FT that although he is not a logistics expert, Sri Lanka allowed wholesale distribution of the virus yesterday, through excessive congregation of people in close proximity.
"Let us try to define first the problems we need to solve. 1. How can we reduce the chances of social interaction to prevent distribution of the virus. 2. How can we ensure people get their essential services without going out," said Deepal Sooriyarachchi.
He opined that bringing supplies to the doorstep was the first option, but this necessitates building new distribution channels.
"This is good but needs extra effort. While we can do this system, we need to recognize that there is a layer of the economy who engage in small ticket business, and they will be negatively affected. Therefore, our effort should be to ensure distribution, while keeping up social distancing, and keeping the small boutique person in business as well," Sooriyarachchi said.
He suggested defining time slots during which only people in a certain area are allowed to do their shopping. "With more than 100% mobile penetration, assume 99.9 % of the households have a phone. Get them to register with a certain central number, giving the location of residence. Using that, they can receive a SMS that will tell them the allocated time slot to go out and shop. That is their curfew pass, so only one person of the family can go out to shop," he explained.
It was pointed out that supermarkets can use the loyalty card database to give time slots to existing customers. Medical staff, and other essential service staff, can be given specific time slots to visit by different supermarkets and shops. This can be used by their family members as well. Sooriyarachchi said that the COVID-19 Task Force should take serious note of these recommendations.
[ad_2]

Source link