[ad_1]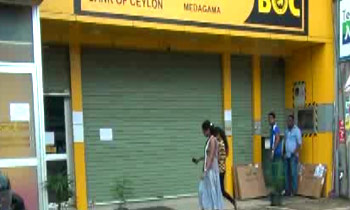 A large amount of money amounting to Rs.5.7 million had been stolen by two unidentified persons that had broken into an Automated Teller Machine (ATM) belonging to a State bank in Medagama, Bibila on Friday (20) night, the Police learned this morning.
Manager of the Bank Ms. A. D. S. S. Fernando said that she had loaded the teller machine with sufficient money on the same day before the bank was closed for the weekend.
When the bank was opened for cleaning operations today (22) the owner of the adjoining shop alerted the bank management that he had visuals of two unknown men breaking into the bank through its rear door captured by his shop's CCTV camera.
The bank management realising the loss had immediately lodged a complaint with the Police. The complaint said that the thieves had managed to break into the ATM cubicle by cutting the bank's CCTV system before entering the ATM cubicle and had fled with the recorder containing the visuals as well.
The Medagama Police initiating preliminary inquiries with the help of Police sniffer dogs recovered a knife believed to be left behind by the fleeing suspects in a nearby paddy field.
OIC Medagama Police O. A. S. R. Dayarathna is conducting investigations on the instructions of the SSP Moneragala Division Sujith Wedamulla. (Prasanna Pathmasiri)
[ad_2]

Source link