[ad_1]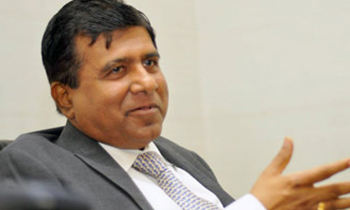 MP Wijedasa Rajapakshe today has in a letter dated November 11 requested Speaker Karu Jayasuriya to abolish the Constitutional Assembly and take steps to rectify the error made by Parliament to postpone the provincial council elections by violating the Supreme Court verdict.
The former minister in his letter said the decision to appoint a constitutional assembly on March 9 2016 was illegal.
He the people had not given a mandate to set up a constitutional assembly because no party had secured a majority at the 2015 general elections. "The traditional concept adopted by the whole world is that pledges given by a political party at an election does not hold true when that party had not secured a majority in the legislature," he said.
Mr. Rajapakshe said a new constitution has to be approved by the people at a referendum and by a two-thirds majority in Parliament taking into account the MPs who were absent during the voting and that it was not possible to form another institution to exercise legislative powers under Section 76 of the Constitution.
He said it was possible to appoint a select committee if the legislature requires assistance of such a committee under Standing Order 94. However, he said it only provides provisions to appoint a special select committee comprising MPs with expertise on a particular sector pertaining to the drafting of the document.
Mr. Rajapakshe recalled that the Sirimavo Bandaranaike government had to appoint a committee which had no connection to the legislature to draft the Republican Constitution because there was provision to set up another body with legislative powers. He also said the 1978 Constitution was presented to Parliament because of the same reason.
"The people expected the government to follow a transparent process in enacting a new constitution but what had taken place today is that a number of NGOs, international advisers and pro-federalism idealists held the Steering Committee of the Constitutional Assembly to ransom," Mr. Rajapakshe said in his letter to the Speaker.
Referring to the 20th Amendment, he said it was passed in Parliament by neglecting the Supreme Court verdict that the amendment could be approved only through a special majority in the House and through a referendum.
"You have the power to rectify matters whenever wrong decisions are made by the legislature and therefore it is your responsibility to do so. If not it is you who will be held responsible in the event of an unrest," Mr. Rajapakshe said. (Yohan Perera and Ajith Siriwardana)
[ad_2]

Source link