[ad_1]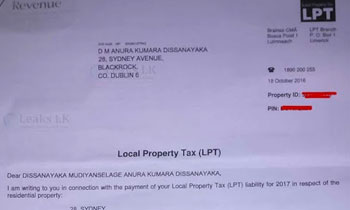 Referring to claims that he owns a property in Ireland, JVP Leader Anura Kumara Dissanayake said he had no interest in responding to claims made on social media.
Earlier this week, several pictures of a letter from the Irish Revenue Department addressed to one Anura Kumara Dissanayake was circulated on Facebook.
The letter addressed to Dissanayake Mudiyanselage Anura Kumara Dissanayake was dated October 16, 2016 and referred to a property on 28, Sydney Avenue, Blackrock, Dublin 6.
Signed by Collector General Michael Gladney the letter is a reminder to pay 675 Euros as Local Property Tax (LPT) for the year 2017.
When contacted by Daily Mirror, the JVP Leader questioned whether any public figure had made any accusations against him in this regard.
"If someone in the public sphere such as another MP or politician has not made such an accusation, I do not see the point in answering such questions. You should ask the people who posted such pictures," the JVP Leader said.
During the short telephone conversation he neither denied nor acknowledged that he had received such a letter or that he owned such a property.
[ad_2]

Source link