[ad_1]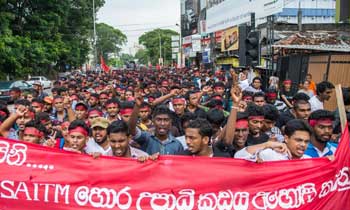 The Inter University Students' Federation (IUSF) today said that the decision taken by the government regarding the South Asian Institute of Technology and Medicine (SAITM) was a mere eyewash and they would not fall for it.
IUSF Acting Convenor Mangala Maddumage told Daily Mirror that they were completely against the decision to abolish the SAITM and convert it into a not for profit institute coming under the University Grants Commission (UGC).
"Our demand was to abolish the SAITM. Privatization of free education should be stopped immediately as well. Even though what was announced by the government was that it would abolish the SAITM, it also mentioned that its management would be changed. Therefore, it is evident that only the management of the SAITM would change," he added.
He said that this could be considered another attempt by the government cheat the public over the SAITM issue and added that they would take stern action and would continue their struggle against the SAITM and the privatization of free education.
He also said the government's only goal at the moment was to continue to market free education in the country through this decision. (Kalathma Jayawardhane)
[ad_2]

Source link