[ad_1]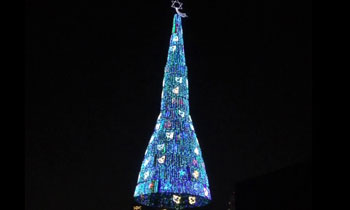 Despite the claim that the-construction-halted-and-then-resumed-Christmas tree at Galle Face Green is the world's tallest artificial Christmas tree, the management at the Guinness World Record told the Daily Mirror that it had not yet received an application from Sri Lanka for this attempt.
The UK and International Press Officer of the Guinness World Records Ltd, Amber-Georgina Gill said the Sri Lankan Christmas tree was a fantastic achievement and that they would encourage the creators to make an application.
"We encourage them to use our website and to upload all their evidences for Records Management team to review and ratify if successful," she said.
At present, she said, the record for the largest artificial Christmas tree is held by the GZ Think Big Culture Communication Co Ltd of China for creating an artificial Christmas tree measuring up to 55 metres (180.4 feet) at Guangzhou, Guangdong in China on December 25, 2015.
Meanwhile, the Ports and Shipping Ministry said it was still in the process of applying for the World's Tallest Artificial Christmas Tree title from the Guinness World Records.
It said they were applying for the world record title through the 'second option' which is to send evidences of the creation to the management of the Guinness management team. The first option is to invite and bring in representatives from Guinness to evaluate the creation.
"Evidences collected since August 16 – the day construction was begin, will be sent for evaluation. Daily reports of newspaper and video footages of the Christmas tree will be sent. We have already registered under the title 'World's Tallest Christmas Tree' of the Guinness World Records," Ports and Shipping Minister's Media Secretary Thameera Manju said. (Lahiru Pothmulla)
[ad_2]

Source link